Double sided Frame Quilt
Move your mouse cursor over the image to examine this quilt in detail.
Maker:

UNKNOWN

Date:

1880 - 1900
Double sided frame quilt made from cotton patchwork in two different designs. One side has a Turkey Red Centre in log cabin surrounded by frames of squares and rectangles. The other side has a central square on point with frames of pieced long strips and rectangle patchwork. The regularity of the rectangular patches suggests these were sample pieces. It has been hand quilted in an all over chevron/wave design.

From the Angela Brocklebank Bequest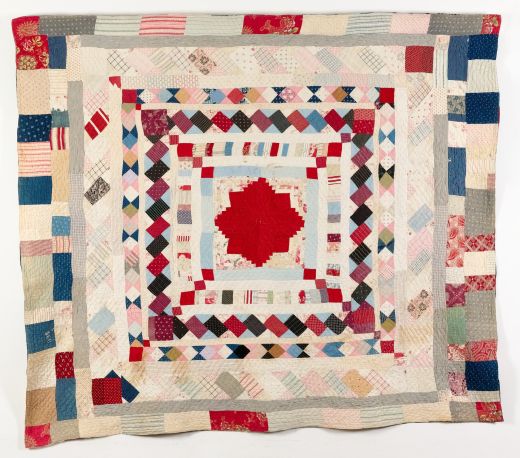 The Quilters' Guild Collection is held by The Quilters' Guild of the British Isles.
Registered charity no 1067361 Company limited by guarantee registration no 34476331 Charity in Scotland no. SC043174.
© 2019 Quilt Museum and Gallery, York | Printed from: quiltmuseum.org.uk/collections/turkey-red-fabric/double-sided-frame-quilt.html