Community artwork banner complete!
Published: Monday, 12th July 2010 14:14 PM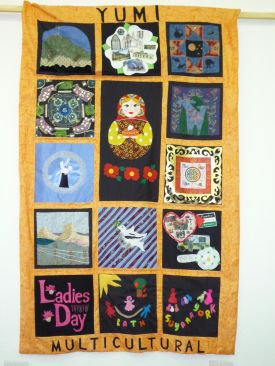 Although the Quilt Museum and Gallery's latest community learning project 'York - A Patchwork of Culture' has now finished, it's fair to say that everyone who has taken part has achieved some fantastic results!
Members of the YUMI (York Unifying Multicultural Initiative) network have produced a beautiful patchwork banner, just in time for their summer Festival on 24th and 25th July 2010. After a well-received 5 session course in patchwork and quilting, members joined forces with Museum volunteers to make the stunning banner. Take a look to see their response to the theme - 'Identity, Culture and Where you Live'.
Huge thanks are due to Sasiki at YUMI for her enthusiasm and assistance, the Heritage Lottery for supporting the Museum's learning and volunteering programmes and above all,the banner makers and Museum volunteers who made this lovely artwork happen:
Kalindi and Hansa Kankali; Lada Hunt and Nadia Bishop; Malar Ware; Devi Sorefan; Lyn Graham; Tanya Jane-Patmore; Elizabeth Rumsby; Linda Tomlinson; Josie Tomlin; Jen Hay; Marta Hardy; Sue Cooke; Cheryl Pickard and Pam Mills.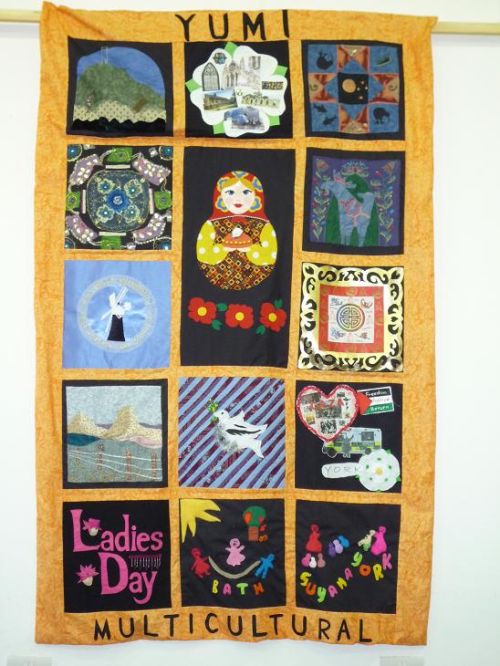 YUMI banner showing work by members of York's multicultural community!