Cefyn Burgess: The 'Uncomfortable Weaver'
Published: Monday, 12th January 2009 16:51 PM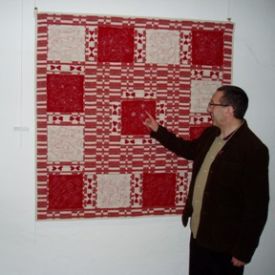 For someone who describes himself as a "slightly uncomfortable weaver", Cefyn Burgess is still probably best known for the work he has produced on his Jacquard loom. Jan Rae explores his work, inspirations and his current exhibition entitled 'Migration' at the Quilt Museum and Gallery.
Cefyn pursued the craft of weaving first at Manchester Metropolitan University and then at the Royal College of Art. Aside from gaining technical expertise however, he felt himself slightly frustrated. "I was always keen on illustration and drawing and making patterns" he now reminisces and "one of my tutors even said I was a frustrated painter!"
He picked up on the painting when he spent a year in London as a freelance, painting one-off designs on blankets for fashion designer Paul Smith and producing ceramic surface designs for Liberty's. There followed three years at the Silk Museum in Macclesfield where he was weaver in residence and finally a return to his native Wales where he worked independently designing and weaving fabrics for furnishings and interiors.
"Migration", his current exhibition in the Quilt Museum and Gallery, brings together many different strands of Cefyn's own life. But, it also shows how he has pushed himself towards new horizons. The Arts Council of Wales grant enabled him to research the migration of Welsh people to America and combine this with his own experience and vision. He had grown up in a Welsh chapel environment and knew about weaving. But, discovery of Welsh home life on the other side of the Atlantic made him broaden his outlook on utility textiles and embellishment and he decided that anything he subsequently produced should be "accessible".
The practical side of machine embroidery was a particular challenge . He tried first with a hand operated sewing machine, carefully feeding felt squares under the needle with one hand and turning the wheel with the other. But not until he had spent three days back in Manchester working with a former tutor, and bought a more sophisticated machine, did he begin to feel he had acquired the skill. One has only to look at the embroidered flowers and chapel buildings on his new work to see that the sewing machine gave him a new way to pursue his love of illustration.
"Migration" successfully combines a fusion of two crafts - Jacquard weaving and machine embroidery. Cefyn does not, however, expect his story to end there. In order to make his one off textiles more accessible, he is currently investigating ways to introduce a more commercial route to production that would involve using a mill, an embroidery company and a long arm quilter. Watch this space, as they say - and if you are in Wales, look for Cefyn's new studio at the Ruthin Craft Centre - due to open in February 2009.
Picture: Cefyn Burgess with his Welsh "Cariad" quilt, a red and white tapestry woven blanket applied with panels of machine embroidered Welsh wild flowers.