Interview with Cath Stonard of the Contemporary Quilt Group
Published: Wednesday, 16th June 2010 11:36 AM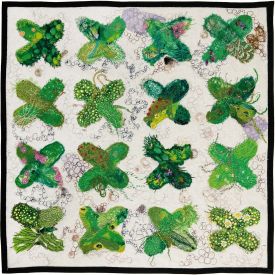 Interview with Cath Stonard of the Contemporary Quilt Group by Quilt Museum Volunteer Amy Hodgson
Where are you from?
South London, Surrey
When did you start quilting and how did you learn?
About 8 years ago, but I had always stitched from a young age onwards. I studied fashion at university and then worked in the rag trade. I learnt how to quilt when I started working at the school where I work now and I then went onto to do a foundation course in patchwork.
When did you join the Quilters' Guild and the Contemporary Quilt Group?
I joined the Contemporary Quilt Group about two years ago, it gives me the opportunity to go online and gain information from other members via online discussions and exchanging websites that people have found. It also gives me the incentive to produce work for the competitions and exhibitions.
Do you belong to a local quilt group?
No, but I am a member of a local woman's art group, where I am the only solely textile artist, there are two others who work with textiles and other media also, and the other members are more interested in painting. It is a mixed media woman's art group.
What materials do you use, and where do you source your materials?
I use 'commercial' fabrics, recycled fabrics and fabrics from charity shops. I am involved in a project called Committed to Cloth, a partnership between Leslie Morgan and Claire Benn, and their Wet and Wild workshops where I have learnt about fabric dying, printing and screen printing.
I have noticed the style of your work varies significantly, is this a purposeful choice?
I probably should concentrate on developing a particular style more, but I don't like to repeat, I prefer to keep experimenting and not stagnating. Some pieces I would like to develop further in order to create a series of quilts or a wall hanging, like a series inspired by Friedensreich Hundertwasser's toilets in Kawakawa in New Zealand where I was really inspired by the designs and blocks of colour in the tiles.
Which of your own works is your favourite if you have one
I like my discharged dyed and appliquéd work, and the wall hanging I have on my website which is more of an abstract piece.
How long does it take you to make a quilt, and do you quantify the time it takes in some way?
No I don't measure the time but I probably should! Maybe something that is 60cmx60cm to something that is twice that size would take me anything from around 12 to 36 hours as a guess. It depends on if something flows and it takes less time, or something I'm struggling with which I need to leave aside and come back to.
What do you do with your quilts? Display, sell or give as gifts?
I sell some, I give some as gifts and I produce some for the Contemporary Guild and they are entered into exhibitions. I have a gallery near where I live where I exhibited around three of my pieces and they offered me a complete solo exhibition which was last year where I sold a lot of pieces.
Where do you find inspiration for your quilts?
Manly in colour and texture, and in the natural world through cliffs, beaches and landscapes. I love pattern and line; I am inspired by a pattern without using it directly. It becomes a starting point that turns into an intuitive process where I don't use sketches but just developing the work as it happens so I am able to change it as I go along.
What is your advice to someone who would like to try making a contemporary quilt?
There are no rules; apart from it needs to be two pieces of cloth sewn together. Just experiment, explore and follow your heart!
What are your other artistic interests and inspirations?
I like to draw and paint watercolours, and pen and ink. I have lots of artists who I like, such as Van Gogh because of the colours and texture in his paintings. The quilter I find particularly interesting is Alicia Merrett, who I was able to meet and talk to her quilters' exhibition recently.