June Quilt of the Month - Celebrating the Jubilee!
Published: Friday, 1st June 2012 08:47 AM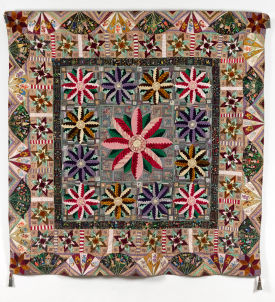 Welcome to our new website feature – Quilt of the Month. Every month we will showcase a piece from our Collection – and with over 800 items to choose from, you can look forward to a vast range of beautiful quilts and interesting stories.
This month celebrates the Diamond Jubilee of Queen Elizabeth II, and so what better place to start than to look at a quilt in our collection which was made to celebrate another Royal Jubilee which took place 125 years ago.
In June 1887, Queen Victoria celebrated her Golden Jubilee. Much like the celebrations of 2012, the Jubilee was marked with parties, pageants and events in cities, towns and villages across the country, and commemorative memorabilia was commercially manufactured to provide souvenirs of the celebratory occasion.
Individuals also chose to celebrate through making their own unique and hand crafted items, and this quilt is one such piece. Made from a rich variety of sumptuous silk and velvet fabrics, the log cabin patchwork technique has been used to create a central design of vibrant chrysanthemum flowers – the 'Golden Flower' to celebrate the Golden Jubilee. The whole piece has been very elaborately embellished with embroidery covering almost every piece. Outline traces of transfer marks on the fabrics indicate commercial embroidery patterns may have been used to create some of the varied embroidered character motifs on the outer fan shapes, which include policeman, fashionable ladies, children playing with toys and animals. In the centre of a flower in each corner of the quilt is the embroidered profile of Queen Victoria's head and the text '1837 Jubilee Year 1887'. Such an elaborate piece of work is likely to have been made for a celebratory Jubilee exhibition, and its remarkable current condition suggests it was hardly ever used.
Thanks to the research of Carolyn Ferguson, a member of the British Quilt Study Group, we also know about the maker and context in which this quilt was made. Working from existing documentary evidence, she was able to find out that Mrs Mills, the known maker of the quilt, lived in the small mining town of Crook, near Durham. Her husband, Thomas, was a Tailor and Draper, and this could explain where the wide range of fashionable fabrics came from. Thomas lived with his wife and mother-in-law on Commercial Street, an area occupied by mining families and tradesmen. This was rented accommodation, which was common for both working and middle classes in the Victorian Period.
Interestingly, the quilt was not donated through this family line. At some point the Mills family must have experienced some financial difficulties, and, unable to pay the rent to their landlord, a builder called William Machell, this quilt was provided as rental payment instead. The quilt has subsequently been passed through William Machell's family until it was donated to The Quilters' Guild Collection in 1992. We do not know why the Mr and Mrs Mills could not pay the rent and had to offer this quilt in lieu of payment, but unlike so many other pieces in the Collection, we have definite information about the maker, her life and why she made this piece.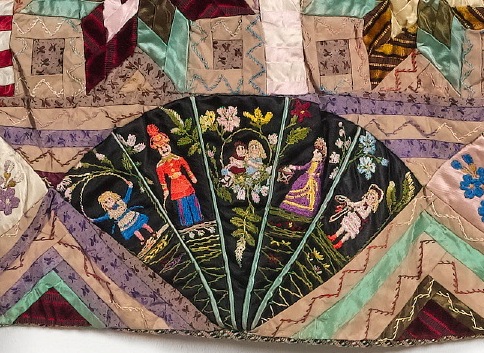 Jubilee Quilt embroidered fan detail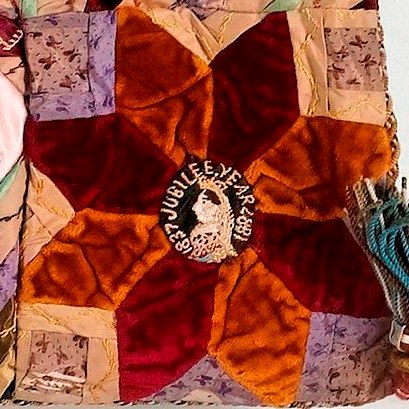 Jubilee Quilt Queen Victoria embroidered profile