Friends of the Collection!
Published: Tuesday, 12th September 2017 12:14 PM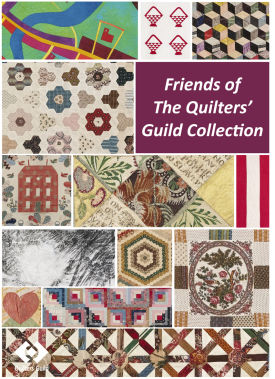 The Quilters' Guild Collection is an important resource for studying the history and practise of patchwork and quilting. Consisting of over 800 objects dating from the early eighteenth century to the present day, the Collection is a must see for crafting enthusiasts - and starting from October 2017, there are more opportunities to see these fascinating textiles by becoming a Friend of the Collection.
Joining Friends of the Collection is a way to support the exhibitions and maintenance of the historic and contemporary quilts in our care. The Collection is owned by The Quilters' Guild of the British Isles, a membership organisation and educational charity, which aims to preserve our quilting heritage, and bring current practising members together in a spirit of learning , friendship and fun.
Become a friend of the collection for just £15 a year, or £10 only if you are already a Quilters' Guild Member!
Friends can gain exclusive access to intimate and informative mini-exhibitions featuring a selection pieces from the collection, displayed at The Quilters' Guild HQ where the collection is housed.
Friends will also receive a quarterly email newsletter, updating you on all the latest acquisitions and interesting research and stories relating to collection items.
Exhibitions will take place at four times a year on the dates advertised, and will cover the following themes:

9th - 13th October 2017: Patchwork and Quilting in Costume
See examples of clothing made from Patchwork and Quilting, spanning the eighteenth to the twentieth centuries.
4th - 8th December 2017: Turkey Red in quilts and patchwork
Feel festive on the approach to Christmas with these striking pieces made from Turkey Red fabric.
29th January - 2nd February 2018: Contemporary Inspirations
Start the New Year with a look at some beautiful contemporary works from the last few decades.
2nd - 5th and 10th - 13th April 2018: Unfinished Treasures
Everyone has them….projects that were never quite completed. Make yourself feel better by exploring unfinished pieces from the nineteenth century and early twentieth centuries.
If you would like join Friends of the Collection, then please get in touch with us by email or telephone: curator@quiltmuseum.org.uk or 01904 613242.