Region 14 Quilt
Move your mouse cursor over the image to examine this quilt in detail.
Maker:

Region 14

Date:
Region 14 Quilt, made by members of Region 14 of The Quilters' Guild whilst the headquarters was based at Dean Clough in Halifax. Each square block represents quilting groups with that region, and the central block depicts Dean Clough itself. Text along the top and bottom reads 'Region 14/Home of The Quilters' Guild'.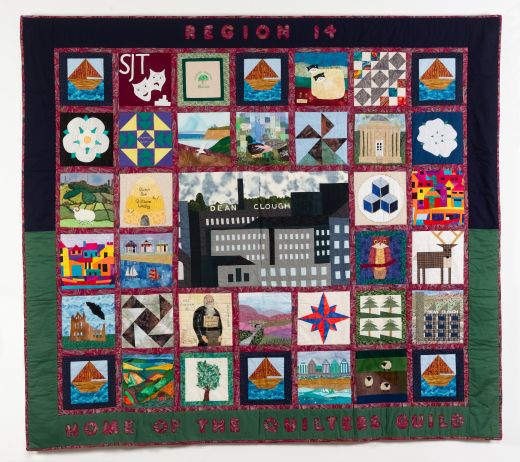 The Quilters' Guild Collection is held by The Quilters' Guild of the British Isles.
Registered charity no 1067361 Company limited by guarantee registration no 34476331 Charity in Scotland no. SC043174.
© 2018 Quilt Museum and Gallery, York | Printed from: quiltmuseum.org.uk/collections/contemporary/region-14-quilt.html