Log Cabin Quilt with Bobble Fringe Edging
Move your mouse cursor over the image to examine this quilt in detail.
Maker:

UNKNOWN

Date:

1860 - 1900
Log cabin quilt or table cover made with the 'Sunshine and Shadow' design variation. The 'shadow' side has been made of black silks in various weaves, including possibly some ribbons. A large variety of fabrics have been used for the 'sunshine' diamond shapes including silks, silk and cotton mixes, and wool, all in different weaves including satin, brocade and velvet. It has been edged with a wool passementerie fringe with bobbles or pom poms in black, bright pink, green and dark red. The quilt has been backed with five panels of Turkey Red cotton with machine overstitching in a square on point design.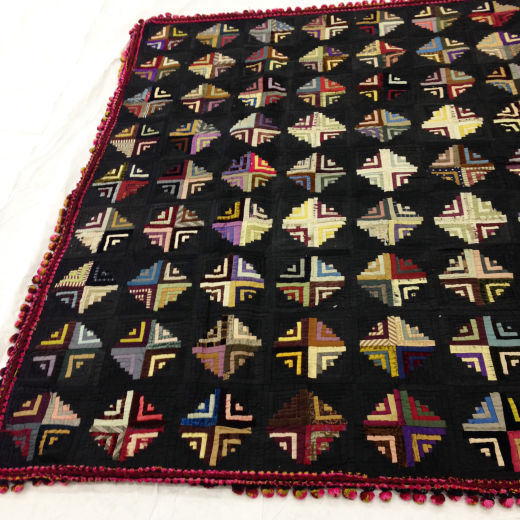 The Quilters' Guild Collection is held by The Quilters' Guild of the British Isles.
Registered charity no 1067361 Company limited by guarantee registration no 34476331 Charity in Scotland no. SC043174.
© 2018 Quilt Museum and Gallery, York | Printed from: quiltmuseum.org.uk/collections/heritage/log-cabin-quilt-with-bobble-fringe-edging.html