Unfinished Grandmother's Flower Garden top
Move your mouse cursor over the image to examine this quilt in detail.
Maker:

Tuckley and Whitehouse families

Date:

1830 - 1900
Unfinished cotton hexagons top, arranged in Grandmother's Flowers Garden pattern, with a border of Turkey Red and White rosettes. Begun by the Tuckley family, (the grandmother of the donor), and continued by the Whitehouse family, residents of Coleshill, Warwickshire. The papers are still in and the cottons cover a period from the second quarter of the 19th century to the early 20th century. One used a card template made from a 'Wild Woodbine' Cigarette packet.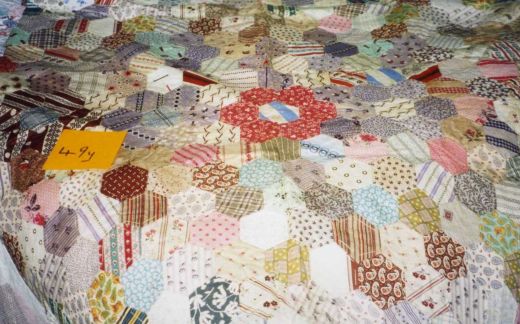 The Quilters' Guild Collection is held by The Quilters' Guild of the British Isles.
Registered charity no 1067361 Company limited by guarantee registration no 34476331 Charity in Scotland no. SC043174.
© 2019 Quilt Museum and Gallery, York | Printed from: quiltmuseum.org.uk/collections/mosaic-patchwork/unfinished-grandmothers-flower-garden-top.html