40 Layers of Quilting
Move your mouse cursor over the image to examine this quilt in detail.
Maker:

Jo Avery

Date:

2019
Contemporary quilt commissioned for The Forties Collection, a body of work representing contemporary quiltmaking across the U.K. in the 40th anniversary year of The Quilters' Guild.

When she thought about the last 40 years of quilting and The Quilters' Guild, the maker imagined it as layers of sedimentary rock as found in an archaeological dig. The resulting quilt shows 40 different layers of patchwork techniques including miniature log cabins and flying geese, plus layers of improvised and curved piecing. Appliqué, hand quilting and other embellishments have been added to some layers to represent as many aspects of quilting as possible.

The Forties Collection quilts were made to celebrate the 40th anniversary of The Quilters' Guild of the British Isles. The 18 regions of The Guild are represented, as well as the three age groups of Young Quilters. Each piece was a new work specially made by a Guild member not already represented in The Collection. The makers were asked to interpret the theme of 40 as creatively as possible. The rule was that the finished piece had to have one dimension of 40 inches and between 25 and 40 inches in the other dimension. These pieces were exhibited at the Festival of Quilts in 2019 in a gallery entitled 'Spotlight@40'.

Commissioned by Region 16 (Scotland)

25 inches (63.5cm) x 40 inches (102cm)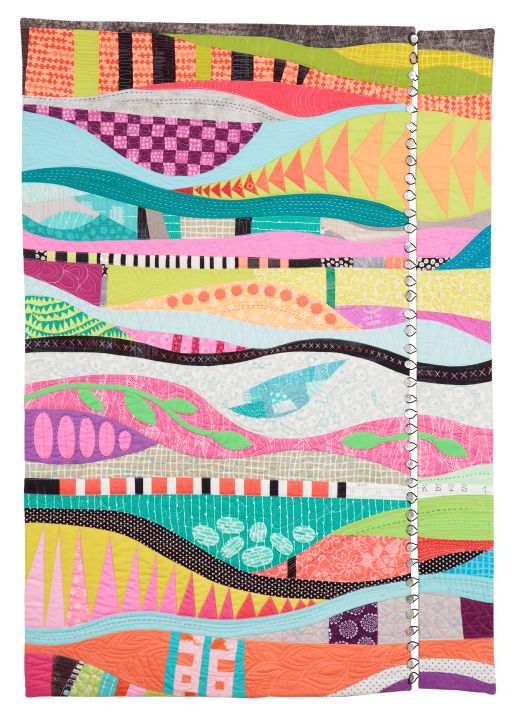 The Quilters' Guild Collection is held by The Quilters' Guild of the British Isles.
Registered charity no 1067361 Company limited by guarantee registration no 34476331 Charity in Scotland no. SC043174.
© 2022 Quilt Museum and Gallery, York | Printed from: quiltmuseum.org.uk/collections/all/all/2010-2021/40-layers-of-quilting.html