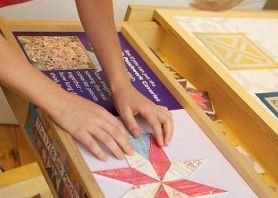 Learning Centre
From the historical to the contemporary, The Quilters' Guild Collection reflects the politics, social and economic history of the last 300 years.
We offer group visits with a themed talk by the curator illustrated by items from the Collection, as well as Travelling Trunks - handling boxes which can be borrowed for your quilt show, local history show or school project.
Why not book a session with us to get inspired, discover your history or learn new skills?
Travelling Trunks and Collection visit bookings available from February 2016.