Dolls Quilt-Cathedral Window by Edyth Henry
Move your mouse cursor over the image to examine this quilt in detail.
Maker:

Edyth Henry

Date:
Cathedral Window doll's quilt is hand sewn from cream, pink and blue cotton, made by Edyth Henry, who was a well known miniature quilt maker and honorary member of The Quilters' Guild. This miniature measures 10.5cm x 13cm.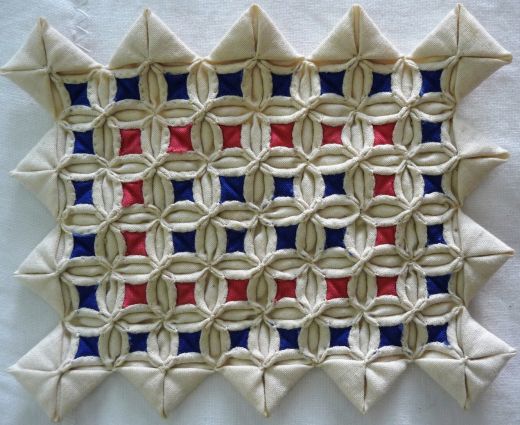 The Quilters' Guild Collection is held by The Quilters' Guild of the British Isles.
Registered charity no 1067361 Company limited by guarantee registration no 34476331 Charity in Scotland no. SC043174.
© 2023 Quilt Museum and Gallery, York | Printed from: quiltmuseum.org.uk/collections/contemporary/dolls-quiltcathedral-window-by-edyth-henry.html