House Block
Move your mouse cursor over the image to examine this quilt in detail.
Maker:

Date:

1999
House Block is the second quilt made in response to graffiti about the homeless in Brighton using the slogan: "No home, No vote, No job, No chance." It is constructed from plastic material, newspaper, and different threads and buttons. It is a hand and machine stitched, with hand stencilled lettering. Commissioned and presented by Jan Hale, Rachel Nichols and George Clements, on their retirement as Trustees of the Guild in 1999.

A quilt from The Nineties Collection - quilts commissioned from quiltmakers working during the 1990s.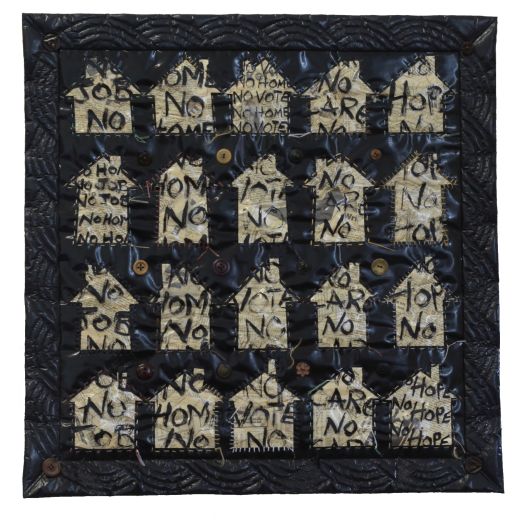 The Quilters' Guild Collection is held by The Quilters' Guild of the British Isles.
Registered charity no 1067361 Company limited by guarantee registration no 34476331 Charity in Scotland no. SC043174.
© 2021 Quilt Museum and Gallery, York | Printed from: quiltmuseum.org.uk/collections/contemporary/house-block.html