Modern Jazz
Move your mouse cursor over the image to examine this quilt in detail.
Maker:

Helen Howes

Date:

2016
Modern Jazz was created as a sampler mystery quilt for The Quilter Magazine in from Autumn 2017 to Summer 2018, and features four main improvisational blocks: Tiger Blocks, Modern Crosses blocks, Wonky Stars and Floating Stones blocks. This piece has several characteristics indicative of a Modern Quilt, including the use of a traditional style block that has been updated, using the same block in different scales, the use of negative space and simple quilting designs. The maker designed this whilst also coordinating the Modern Quilt Specialist Group, which was formed in 2014. Helen enjoys piecing and loves to work with variations, stating "improvised blocks are like handwriting; mine are not like anyone else's, even when the root is the same".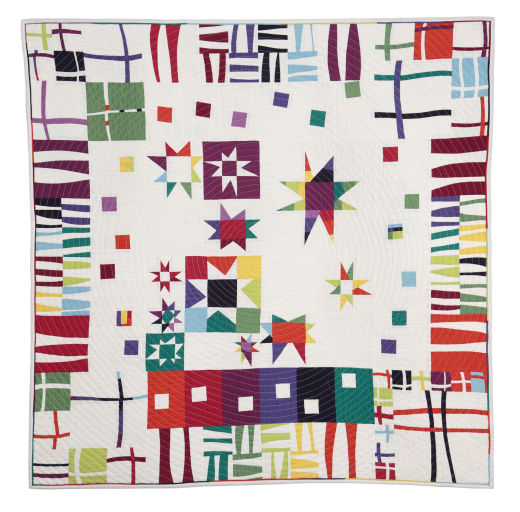 The Quilters' Guild Collection is held by The Quilters' Guild of the British Isles.
Registered charity no 1067361 Company limited by guarantee registration no 34476331 Charity in Scotland no. SC043174.
© 2022 Quilt Museum and Gallery, York | Printed from: quiltmuseum.org.uk/collections/contemporary/modern-jazz.html