Silver Jubilee Quilt
Move your mouse cursor over the image to examine this quilt in detail.
Maker:

DeAnne Hartwell-Jones

Date:

1977
Jubilee celebration frame quilt, made to mark the Silver Jubilee (25 years) of the reign of Queen Elizabeth II in 1977. The quilt features a central block, which imitates the block printed panels popular in the 1820s made for similar commemorative events, with an octagon containing a floral design. The text 'E II R SILVER JUBILEE 1957-1977' is in patchwork underneath the oval floral patch, and oak leaves are appliqued at the side. The frames contain patchwork of triangles and log cabin blocks at the corners, and the outer frame as appliqued circles with printed crowns. This is one of three quilts made by the same maker which celebrate the Silver, Golden and Diamond Jubilees of the Queen, following the same commemorative theme but made 35 years apart.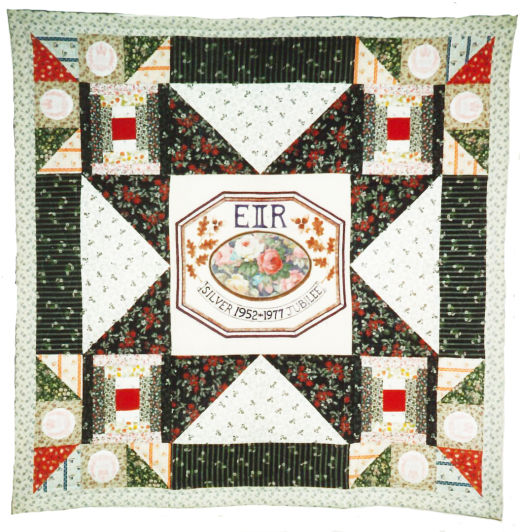 The Quilters' Guild Collection is held by The Quilters' Guild of the British Isles.
Registered charity no 1067361 Company limited by guarantee registration no 34476331 Charity in Scotland no. SC043174.
© 2022 Quilt Museum and Gallery, York | Printed from: quiltmuseum.org.uk/collections/contemporary/silver-jubilee-quilt.html