The Magna Carta Quilts - The Medieval Quilts
Move your mouse cursor over the image to examine this quilt in detail.
Maker:

The Magna Carta Quilt Association

Date:

2013 - 2015
Collection of quilts made to commemorate the 800th anniversary of the sealing of the Magna Carta at Runnymede in 1215 A.D. There are eight quilts in total - four Medieval quilts (1-4), that tell the story of the Magna Carta in a graphic novel style based on 13th century manuscripts (Death of Richard the Lionheart, ascension of John to throne of England leading to events running up to sealing of the Magna Carta then the ascension of John's son, King Henry III), and four Legacy quilts (5-8) featuring oak trees with 20 leaves, each depicting portraits of key figures in the field of Human Rights, including Abraham Lincoln, Carrie Nation and Martin Luther King Jnr, with shields of the Magna Carta Barons along the bottom. When all placed together in the row the reverse of the quilts depict the Thames in a mosaic style design.

Kindly donated by the Magna Carta Quilt Association (led by Paula Doyle and Alison Garner and additional quilters Jennie Rayment, Angel Daymond and Linda Seward), an unincorporated and not for profit association consisting of a small group of quilters and textile artists who have connections with Runnymede. Some members of the group were approached by Clive Walker, Community Manager at Magna Carta School in Runnymede with a proposal of making a quilt to celebrate the 800th anniversary of the sealing of the Magna Carta at Runnymede Meadow in 1215. The concept evolved into 8 quilts, 4 telling the story of how the Magna Carta came about, and 4 showing the far reaching influences of the Magna Carta.

Each quilt measures 152.5cm x 203cm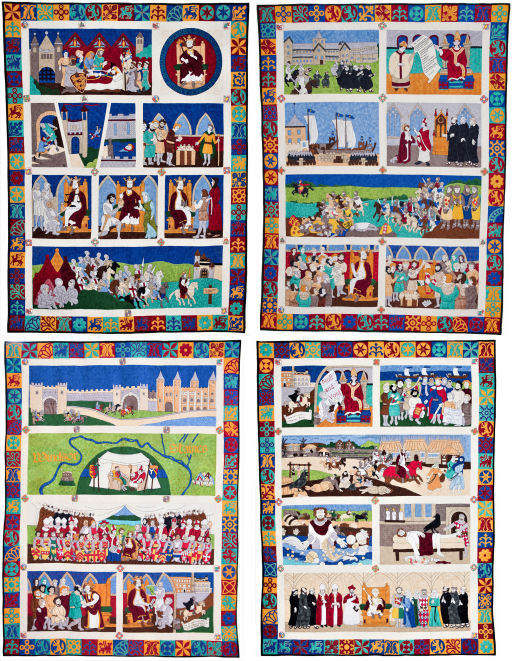 The Quilters' Guild Collection is held by The Quilters' Guild of the British Isles.
Registered charity no 1067361 Company limited by guarantee registration no 34476331 Charity in Scotland no. SC043174.
© 2022 Quilt Museum and Gallery, York | Printed from: quiltmuseum.org.uk/collections/contemporary/the-magna-carta-quilts-the-medieval-quilts.html