Contemporary Inspirations Exhibition
Published: Wednesday, 31st January 2018 11:40 AM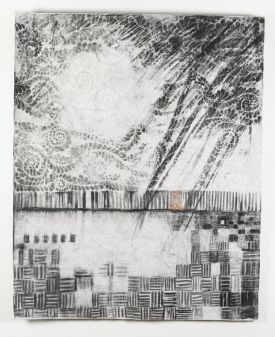 Contemporary Inspirationsexplored how quilters have developed their practice over the last twenty years, combining high levels of craftsmanship with innovations in printing and design. The artists included have been inspired by techniques and practices from all over the world, from traditional Inuit embroidery, to north country strippy quilts, to Japanese wall hangings.
The exhibition grouped the pieces into four categories - Printing and Photography; Nature vs. Man; New Traditions and International Inspirations. You can read the text and explore some of the images of the pieces that featured in the exhibition below.
Image right: Laura Kemshall, And now the weather...(2008).
Photography and Printing:
International Inspirations
Nature Vs. Man
Many quilts pay homage to the beauty of the natural world: including patterns of feathers and flowers, dyeing fabric using seed-pods or flowers, or simply representing the natural landscape that their creators love. However, this tradition also makes the quilt a powerful medium to reflect on how man interacts with nature.
New Traditions
Whilst many quilt makers have moved away from traditional pieced works to focus on printing as a means of innovation, others have reformed the patchwork quilt.
Kingfishers catch fire...(1999)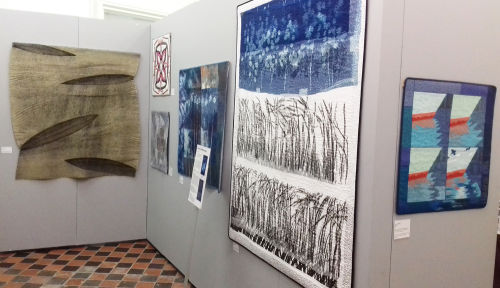 Contemporary Inspirations exhibition, showing works by Pauline Burbidge, Laura Kemshall, Helen Parrott, Mary Mayne and Diana Harrison