A celebration of the House - The Quilters' Guild Museum Collection
Published: Thursday, 25th June 2020 11:50 AM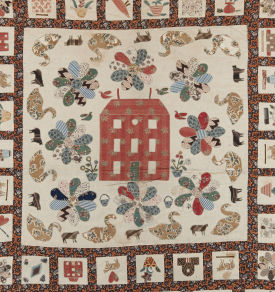 We've all seen a lot more of the inside of our houses in the past few weeks as we try and keep ourselves and others safe from spreading the virus in the current pandemic. So here is a selection of objects related to houses, from the patchwork House block to the perfect patchwork loungewear!
To start us off, here's one you may have seen a lot over the last year - The Red Manor House Coverlet. The beautiful red house is reminiscent of the style of houses worked into samplers in the 19th century.
For those of you looking for a sewing project over the coming weeks, this coverlet is the inspiration for a modern version in a Block of the Month pattern designed by Jenni Smith. You can buy the House block on its own here.
This House Blocks Quilt was the first acquisition into The Quilters' Guild Collection in 1979. It is made up of 20 applied house blocks which were made by 20 members of the Quilt Circle in 1978. The blocks were raffled off and won by Jean Amsden, who put the blocks together and completed the quilt. The houses represented the makers' homes, or typical types of houses in the region they lived.Which one is your favourite?
This fabulous House Coat is made from cotton and rayon fabrics in plain and floral printed designs and has been hand-sewn in the mosaic patchwork technique. The colours and prints have been arranged into diamond lozenge shapes, and the housecoat is lined with a pink floral figured fabric. It is thought the housecoat was made some time during the 1940s-50s, and was given to the donor in the 1960s.
This vibrant and striking quilt was made by Mary Elizabeth Upton, wife of Lighthouse Keeper Joseph Upton, whilst Joseph was the Principal keeper on the Farne Islands between 1892-1894.Census records show that the Lighthouse Keepers and Assistant Keepers and their families lived on-site in the cottages next to the lighthouse, making their own small community. Lighthouses were remote and isolated, and these families had limited contact with the outside world - a situation that seems quite pertinent for our current climate.
This beautiful fabric book has appliqued children's story characters in printed dress cottons, which have been applied onto a coarser linen background. It is presumed to have been made in the 1920s-30s and given to Dorothy Dight and her family as a gift by a friend or neighbour. This page shows an idyllic house in the sunshine, with the table all set for a nice cup of tea.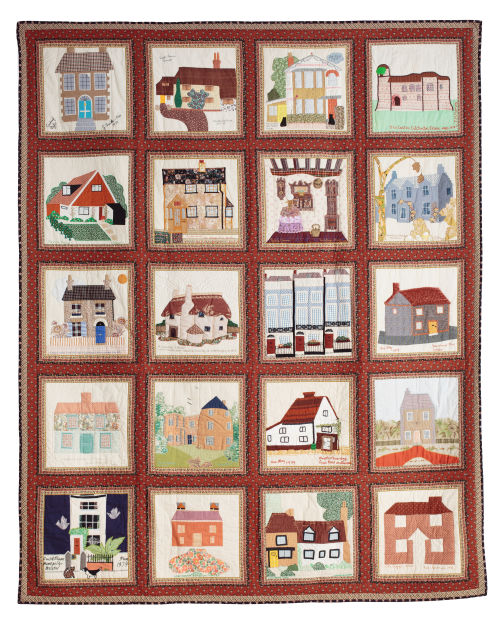 House Blocks Quilt, 1979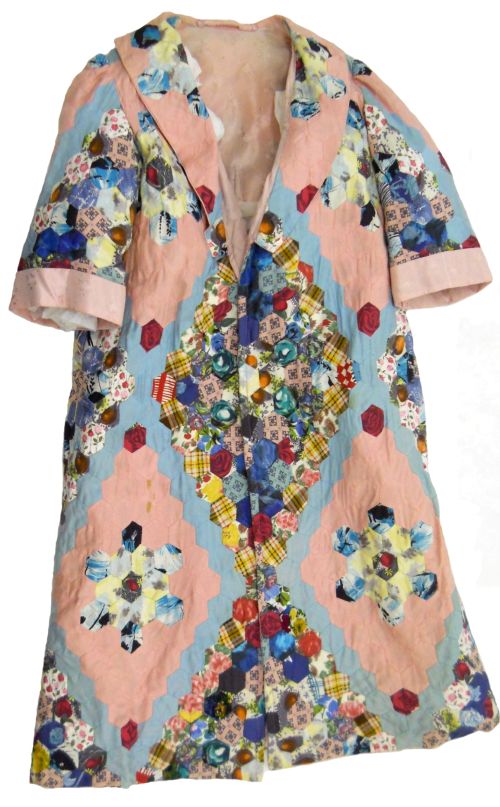 House Coat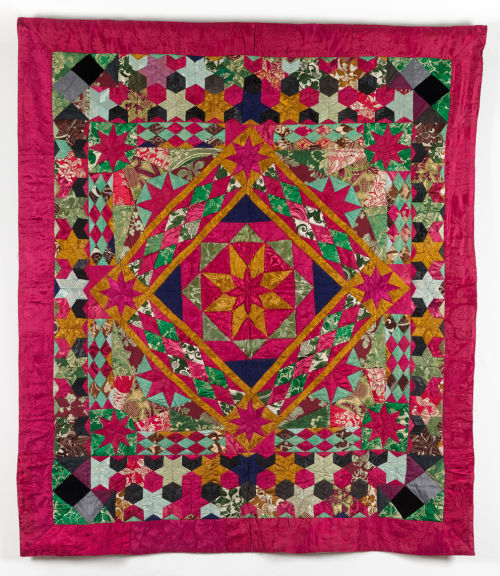 Farne Islands Quilt, 1890s