Fancy a Cuppa?
Published: Friday, 26th June 2020 09:47 AM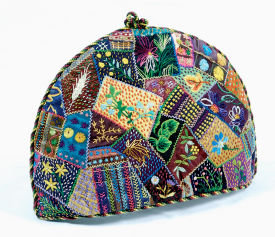 The Quilters' Guild Museum Collection contains a range of different items that feature the crafts of patchwork, quilting and applique. This includes clothing and small domestic items, like bags, cushions and of course - Tea Cosies.
So, in honour of our great tea drinking tradition and in the knowledge that a good cup of tea always helps, here are some of our tea cosy stunners.
Is it time to put the kettle on again yet....?
Let's start with our Flowers Tea Cosy, which is is our most embroidered and embellished Tea cosy in The Collection. It was made around 1900, and it's excellent condition could indicate it was more of a show piece for the parlour than a practical object. Every guest must have been jealous of this beauty!
This tea cosy is made from printed B.D.V. cigarette silks, which have been joined together and decorated along the seams with feather stitch in different-coloured embroidery threads. One side features the 'Old Masters' paintings set whilst the other shows a collection of birds. A delicate multicoloured ruffled silk strip adorns the edge, although this has deteriorated and is now protected by a layer of conservation netting.
Cigarette silks were decorative and colourful collectable items issued by manufacturers to encourage customer brand loyalty. They were marketed towards women, and although it was just starting to be socially acceptable for women to be smokers, it was also believed that women would put pressure on their male family members to purchase a certain brand of cigarettes so that she could collect the full set of silks for her domestic projects. Coupons were sent away and the fabrics would arrive, destined to be used in patchwork coverlets, samplers, bags and, as in this case - a tea cosy!
This crazy patchwork tea cosy is made from different plain and floral printed linen fabrics, decorated with embroidered feather stitch and padded with cotton wadding. It was made in the 1930s, and the different fabrics give it a more updated look in comparison to the multicoloured silks and velvets of its Victorian counterparts.
This wholecloth quilted tea cosy was made by North Country quilting legend Amy Emms. It features a curved feather motif on one side and a leaf motif on the other, both with a square diamond infill.
This tea cosy is made from hexagons of printed dress and furnishing fabrics dating from the 1960s. The tea cosy is edged with a short red frill and it is very thickly wadded - perfect for keeping that second brew warm when one cup just isn't enough!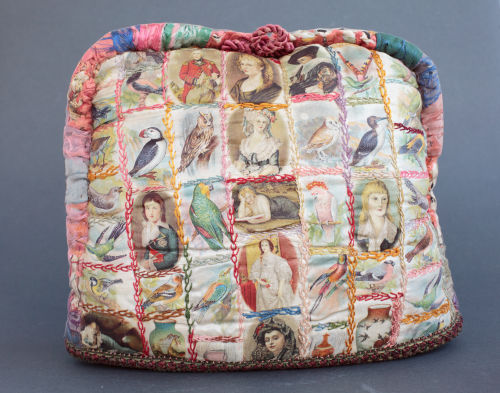 Cigarette Silks Tea Cosy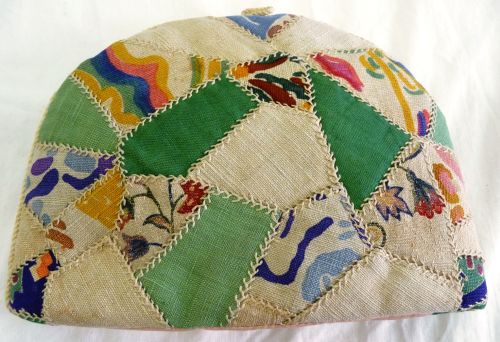 Linens Patchwork Tea Cosy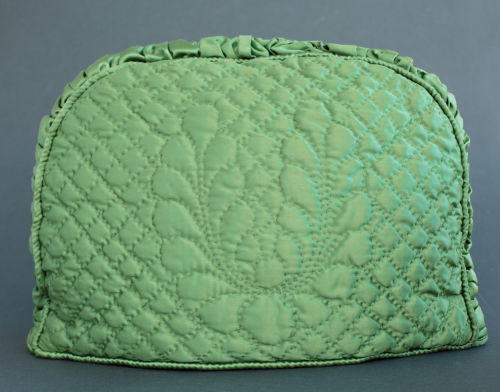 Amy Emms Green Tea Cosy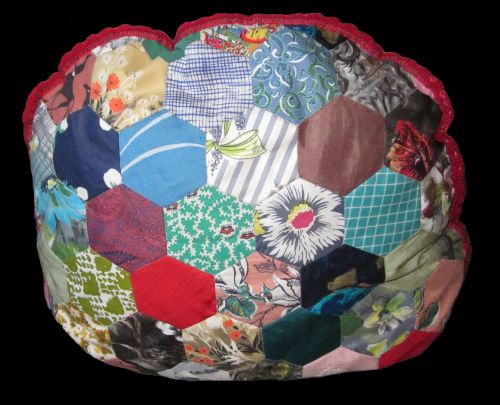 Sixties Hexagons Tea Cosy