Pretty Petticoats
Published: Tuesday, 30th June 2020 07:58 AM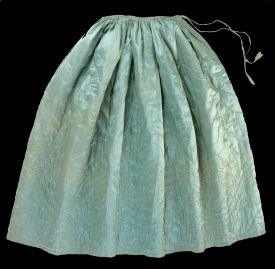 Although the majority of our Collection is quilts and coverlets, we collect any objects that feature the crafts of patchwork, quilting and applique. Our clothing collection includes some stunning items, and in this blog post we take a look at some petticoats from the 18th and 19th century.
We start with this hand-quilted green (faded from a more blue shade) silk petticoat from the mid-late 18th century. It would have been worn with an open robe gown that would have displayed the beautiful quilting design. It has been pleated onto the waistband, and ties at one side. There is a gap at each side to access the pockets - separate tie on objects that were worn underneath the petticoat - to keep those valuables safe and secure.
This petticoat was made in the late 1860s/early 1870s from Turkey Red discharge printed cotton in a paisley design, and has quilted horizontal channels that are filled with down and a drawstring waist. This created a warm yet lightweight petticoat that would stand out in a dome shape to help support the fashionable skirts of the era. The label inside this petticoat reads 'McLintock's purified Russian Down Petticoat No. 7 34'. As the manufacture of quilted petticoats continued, the quilted channels became progressively wavier, and braids were used between the channels. This petticoat has quite straight channels, indicating it is one of the earlier petticoats.
This linen petticoat panel, dating from around 1710s-1720s features intricate decoration in corded quilting, pulled work, embroidery and French knots. Large motifs feature nearer the hemline, and smaller flowers and leaves are equally placed along the top half of the panel. The flat panel would originally have been joined to other pieces and gathered onto a waistband to form a petticoat, but now only one piece of it survives.
This is the second Turkey Red quilted petticoat in our Collection, and the design differs a little from our McLintocks piece as the horizontal channels are more wavy, and the quilting lines are covered with decorative braid. This indicates it is slightly later in date, possibly late 1870s to 1880s. It was made by Booth and Fox, a London based company, who (like McLintocks) specialised in the production of a variety of down filled Turkey Red clothing.
This cream linen petticoat dates from the 18th century and has corded quilting designs of a border along the hemline containing flowers, leaves and tendrils. The rest of the petticoat is quilted with a three curve arch design. The fullness of the skirt, which measures 256cm circumference at the hem, is gathered by pleats into the thin linen tape waistband. There are two openings, one on each side seam, to access the pockets underneath.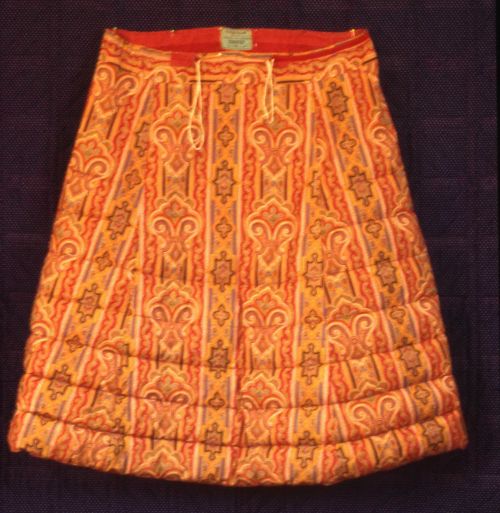 McLintock's Turkey Red Petticoat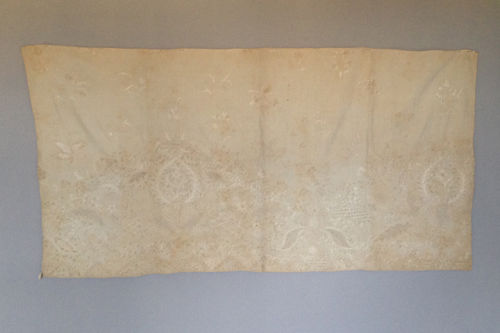 Petticoat Panel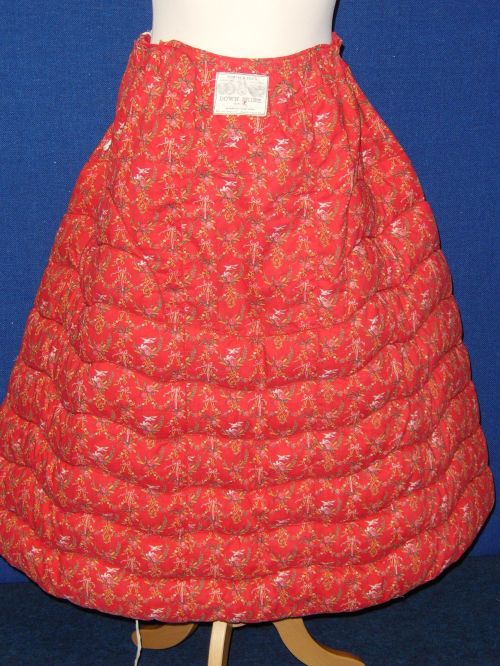 Booth and Fox Turkey Red Petticoat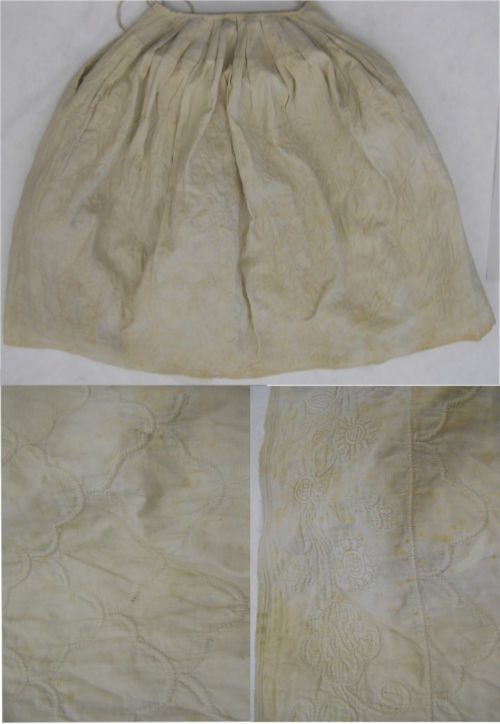 Corded Quilted Petticoat