Flowers
Published: Tuesday, 30th June 2020 13:07 PM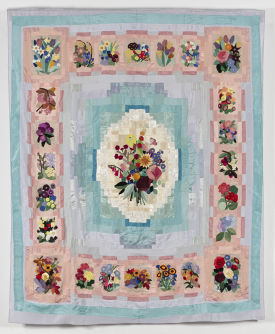 With Summer-time well and truly underway many of us are spending more time in our gardens or admiring the nature we see around us. In celebration of this, here are some beautiful floral depictions in the quilts and coverlets in our Collection - including printed, appliqué, painted and mosaic patchwork flowers.
This first piece is a beautiful floral bouquet coverlet by Myfanwy Price, made in 1951. Myfanwy was an author who wrote several books in the 1930s but she was also a keen gardener and patch-worker. Her coverlet recreates very realistic flowers from mosaic patchwork, and uses shiny artificial silks mixed with much heavier weight velvets.
This close up of the Pawnbrokers Coverlet shows the detailed floral embroidery which adorns the whole surface of this crazy patchwork piece. The Coverlet, which was made in 1877, was found in a Pawnbrokers shop in the 1920s, where it was pawned but never reclaimed, allowing it to be sold on to a new owner.
This coverlet is made from different coloured silk hexagons in the centre with a border of silk diamonds outlined with yellow braid. The central hexagon of each rosette has a different painted flower, which has been carefully and beautifully done, as these hexagons are very small! It was probably a decorative table cover rather than a bed piece due to its small size.
This contemporary piece called Tudor Rose was made in 1996 for The Nineties Collection, which celebrates work completed by contemporary makers throughout that decade. Tudor Rose is made in the Hawaiian technique and the wavy quilted borders aim to bring together the waters of the maker's region of Hampshire and the sea around the Hawaiian Islands. It was commissioned and presented by Region 3 (Hampshire. Wiltshire, Channel Islands and Isle of Wight).
This delicate red flower print is part of a copper plated linen fabric which features in the border of a plain white wholecloth quilt dating from around 1790-1800. Copper plate printed fabrics could be exceptionally fine as the plate could be engraved with very detailed designs. The rest of the quilt, which is hand quilted with a clamshell design, is otherwise in poor condition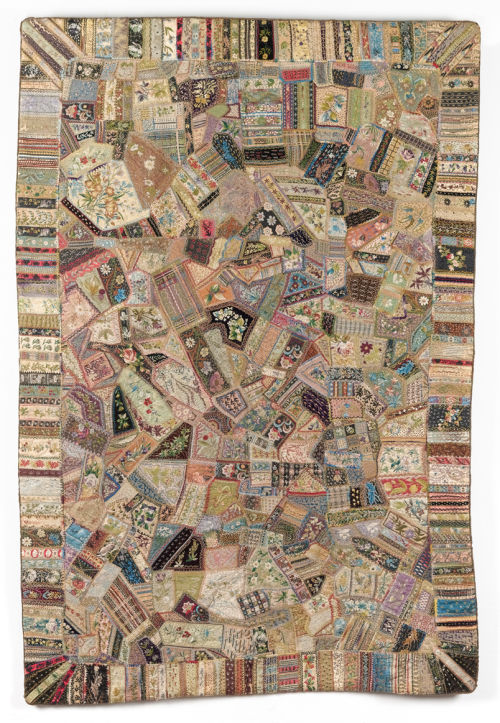 Pawnbrokers Crazy Coverlet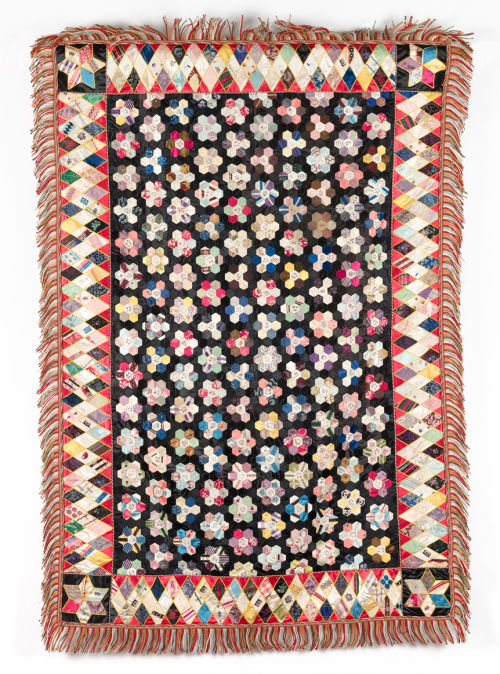 Painted Silk Flowers Hexagons
Tudor Rose by Edyth Henry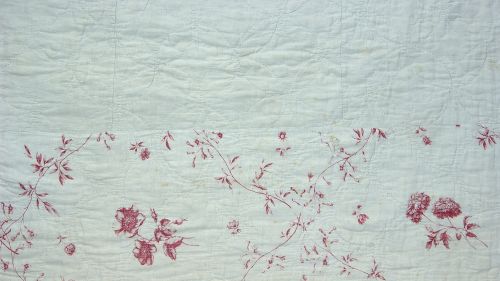 Copper Plate Print Wholecloth Quilt