Block Printed Panels
Published: Tuesday, 7th July 2020 12:41 PM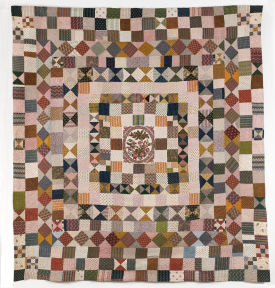 Block printed panels were popular in the first decades of the 1800s,and made a good central focus point for quilts and coverlets as well as being used in other domestic projects. Many feature flower and bird designs, and some were made to commemorate key events such as the marriage of Princess Charlotte in 1816 and the victory of the Duke of Wellington against Napoleon at the battle of Waterloo in 1815.
This first printed panel is a bird feeding its young, which features in the centre of our Sidmouth Quilt. We also have an unused version of this panel in our fabric collection. It must have been a popular one, as it can be found in quilts in other museum collections too.
This octagonal Cornucopia panel features in the centre of a frame quilt with pieced and applique frames of printed cottons alternating with un-pieced strips. One frame is made of applied clamshells with squares set in the corners. The whole piece is hand quilted, and was made 1840s-1860s.
This triangle patchwork frame quilt has a central block printed commemorative panel celebrating the Duke of Wellington's victory at the battle of waterloo in 1815. The triangles show a range of different roller printed dress cottons and designs and date from the 1820s and 1830s. The reverse of the quilt is made from Irish linen and bears the trade stamp of Edward Shannon, Coleraine. The piece is hand quilted with an intricate framed quilting design, and the date 1834 is quilted into the piece. There are 844 triangles of 252 different fabrics and 216 pieced triangles.
An octagonal block printed panel of with a floral arrangement features in the centre of this hexagon mosaic patchwork made from printed and plain cottons. It is surrounded by concentric rows of hexagons before the rosette arrangements. The top is unfinished and still contains the paper templates, which have been recycled from various handwritten and printed documents. Some of the dates in the papers are '1789' and '1790'. On the reverse is also a handwritten note which has been sewn to the centre. The hand written note reads 'This quilt belonged to Mrs Eliza Parkinson, wife of Dr. James Parkinson of Tudor House, Dalkey, Co. Dublin. She died in 1871 aged 84. It was probably made by her mother Mrs Madder or her grandmother Mrs Beetie'. It is possible the fabrics date c.1790-1820.
This patchwork fragment has a central block printed panel with vase of flowers and a basket of fruit on a tea ground in an elongated octagonal frame. The panel is surrounded by one frame of white squares on point with blue floral furnishing print triangles, and a second frame of half square triangles of the same fabrics.
We hope you've enjoyed this blog post. If you are interested in the preservation our patchwork and quilting heritage why not join The Quilters' Guild? You can find out more about our membership, and all the other benefits of joining, on our main Guild Website www.quiltersguild.org,uk.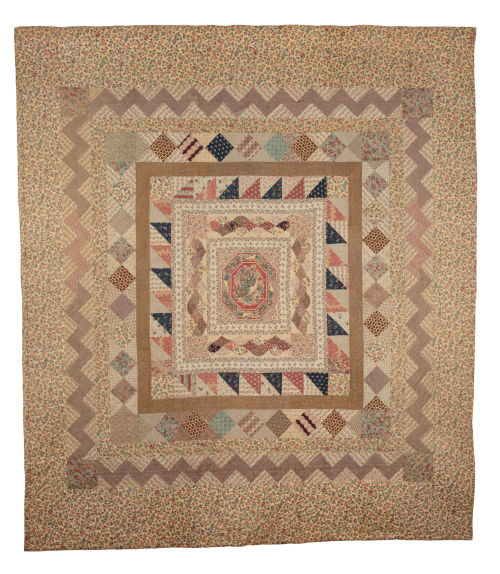 Cornucopia Frame Quilt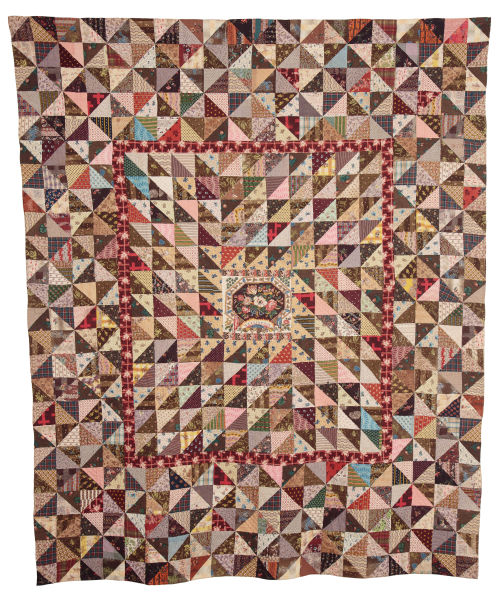 The Wellington Quilt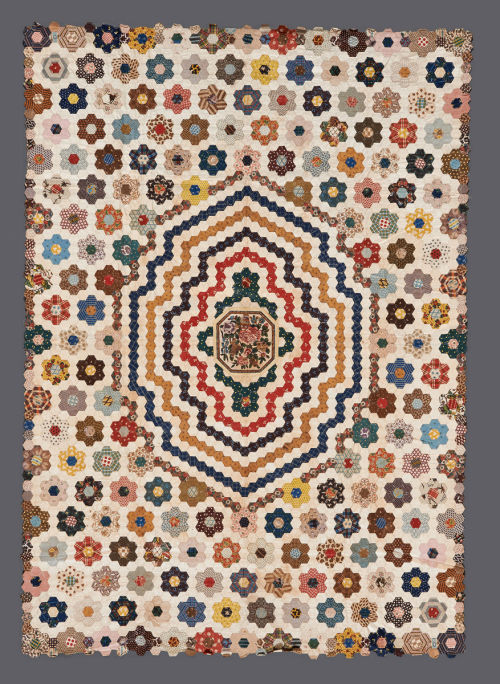 Patchwork fragment with block printed centre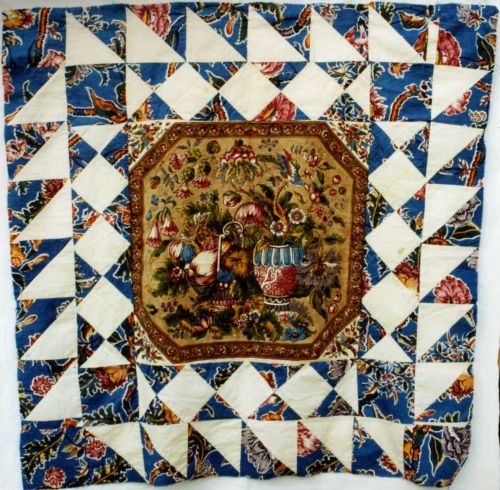 Vase and Basket Panel Fragment