Dressing Gown Style
Published: Tuesday, 7th July 2020 13:08 PM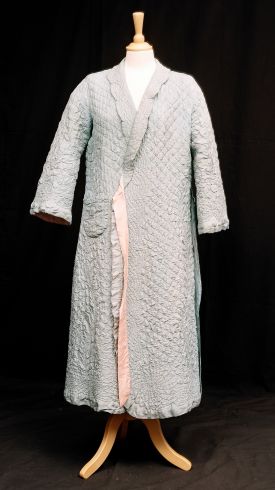 The Collection has an extensive range of patchwork and quilted dressing gowns and bed jackets which show the differing styles and fashions in nightwear in the twentieth century.
This blue and pink quilted dressing gown, with quilted rose motifs and a square diamond infill was made during the 1930s. The collar has a scalloped edge, and the original 'N.I.W' woven label is still at the neckline. It was made under the Northern Industries, a similar scheme to the Rural Industries Bureau which provided employment in the form of making quilted goods for a luxury market. Two workrooms were provided for the completion of orders, at Barnard Castle and Langley Moor.
This gold satin dressing gown was hand pieced and hand quilted by Irene Morgan in the 1950s, and is beautifully constructed with piped edges along the sleeve and collar edges. Quilting motifs include large feather swirls from the hemline and a square diamond infill. Irene was a quilter of the highest quality and trained under the Rural Industries Bureau in the 1930s. She won 1st prize at the Festival of Britain National Exhibition of Quilting for a wine coloured velvet dressing gown.
This hand sewn and hand quilted dressing gown is made from green silk velvet on the outside and lined with apricot coloured silk. It has turned back cuffs and collar, and is hand quilted with rose, quatrafoil and leaf motifs. The dressing gown was made for Mrs Norma Brett in the 1930s by someone with connections to the Royal School of Needlework.
In contrast to the previous three dressing gowns this wine coloured dressing gown is a commercially manufactured garment. It is quilted in a floral and meandering design with machine chain stitch, and fastens with 8 buttons and a metal press stud at the neckline. The original label is still intact at the neck and reads 'A Cosy Quilt Gown'. It most probably dates from the 1950s-60s.

This dressing gown is made of triangular patches of silk ties sewn together with zig-zag machine stitching. It has patch pockets and hand-made fabric buttons, and is trimmed with a turquoise collar, bindings, buttons and button holes. It was made by Anna Moran Addingham from West Yorkshire. She was apprenticed to a Miss Verity, a court dressmaker in Ilkley in the late 1920s or early 1930s, and taught sewing for many years in the Ilkley / Skipton area. She made it when she was given a bag of old ties sometime in the late 1970s/ early 1980s.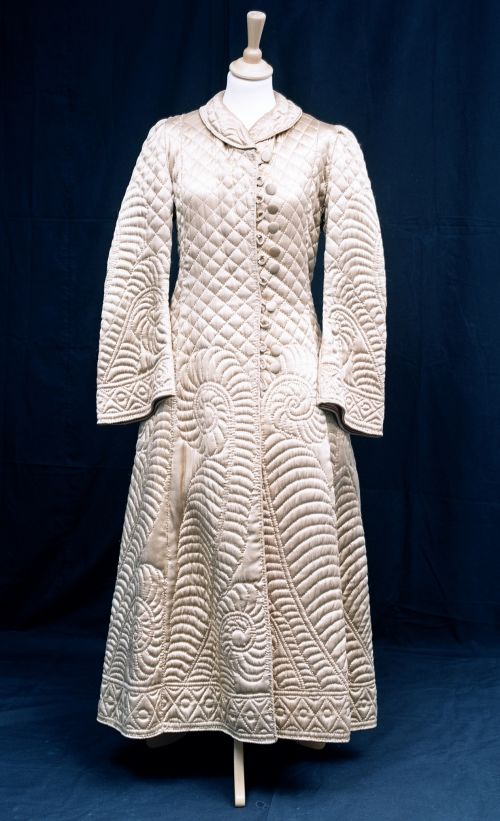 Gold Dressing Gown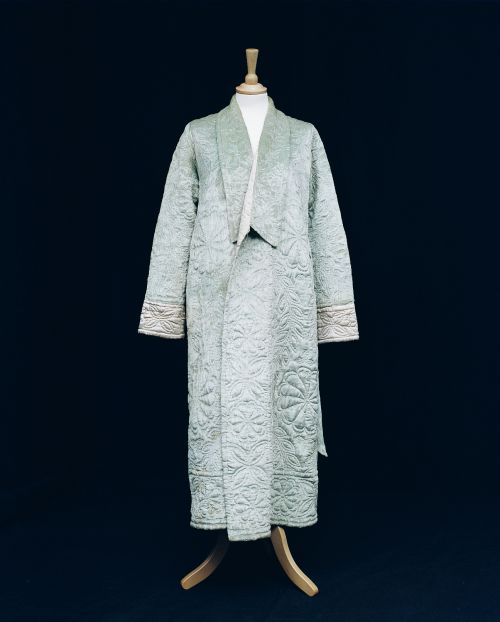 Silk Velvet Dressing Gown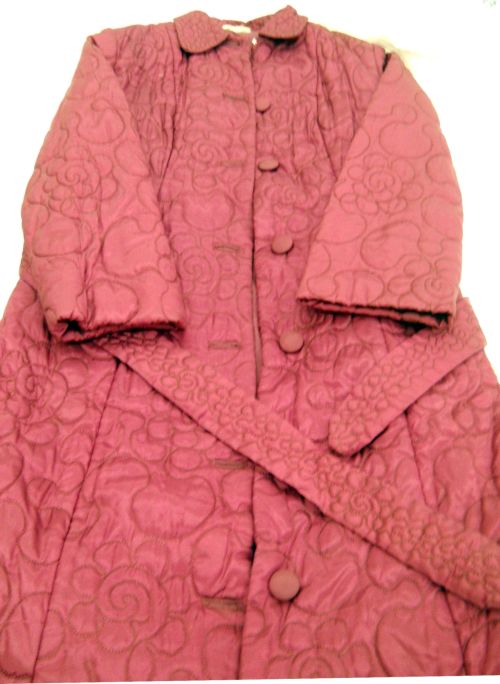 'Cosy' Quilted Dressing Gown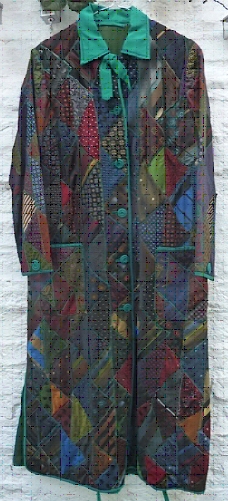 Silk Ties Patchwork Dressing Gown