Miniatures
Published: Monday, 7th September 2020 09:08 AM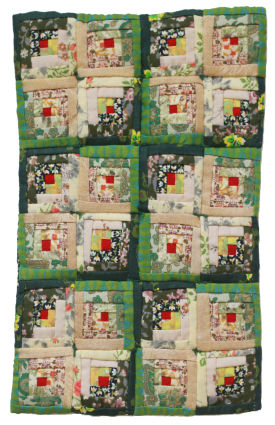 The Quilters' Guild Collection has a wide range of items from different time periods within the history of patchwork and quilting. It also has pieces ranging in size from our largest - measuring 3 metres in width - to our miniature pieces, that are full quilts with complex patterns in patchwork and quilting that perfectly in proportion, but they smaller than an A4 sheet of paper.
This blog post looks at some of the miniature pieces in The Collection. And if you would like to see more, then check out the pages of our specialist Quilters' Guild Group, The Miniature Quilt Group. https://miniature-quilt-group.quiltersguild.org.uk/
This first piece was made Barbara Bailey, and features twenty-four blocks of log cabin patchwork, measuring 4cm square set together four in a row. Each log cabin block has three logs per side of the central square. It is all hand-pieced and tied, and signed in chain stitch embroidery on the reverse 'B. Bailey 1978'
This Cathedral Window doll's quilt is hand-sewn from cream, pink and blue cotton, and was made by Edyth Henry, who was a well known miniature quilt maker and honorary member of The Quilters' Guild. This miniature measures 10.5cm x 13cm.
This miniature wooden display case decorated as quilt gallery/shop, with seven miniature quilts hanging on the walls, a chest full of small patchwork cushions, a screen, steps with more cushions, miniature furniture and two carpets. The case has an electrical transformer for a working central chandelier. It was made by Heather Armitage from Region 16 (Scotland) in the early 1990s.
This miniature hexagons patchwork was pieced over papers, forming a central star design with diamond shapes around it. Each tiny hexgon measures just one quarter of an inch, and the whole quilt measures 11 inches by 15 inches. The quilt has a wooden display bed, mattress, white cotton sheet with crochet edging and a white cotton pillow with a scalloped edge. The miniature templates used to create this quilt are also in the Collection. The maker of this piece, Maureen Hoyle, was an avid member of the Quilters' Guild and taught at many workshops to the quilters of Region 13. She specialised in miniature quilts with their own bed and was well known for her exquisite and meticulous work. Her trade mark was to combine the layers of her quilts with french knots rather than quilting. This piece was made in
This contemporary miniature pictoral quilt was made in 2018 by Roberta Le Poidevin, and depicts an outback desert scene. A small dwelling is silhouetted against a red and yellow sky at Sunset. The quilt has been discharge and screen printed on cotton as well as Markal stencilled. It features hand stitching and has been machine quilted in vertical rows across the whole of the piece.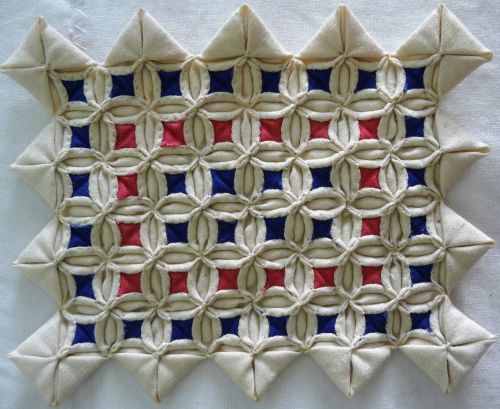 Miniature Cathedral Window Quilt by Edyth Henry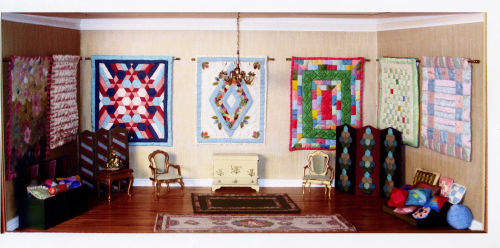 Miniature Quilt Gallery by Heather Armitage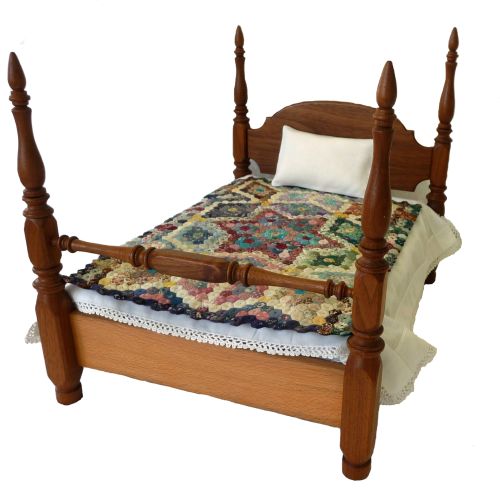 Miniature Hexagon Patchwork by Maureen Hoyle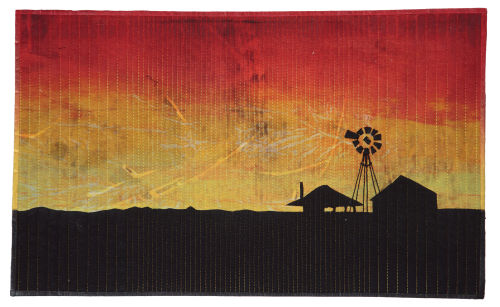 Outback: Sunset or Fire by Roberta Le Poidevin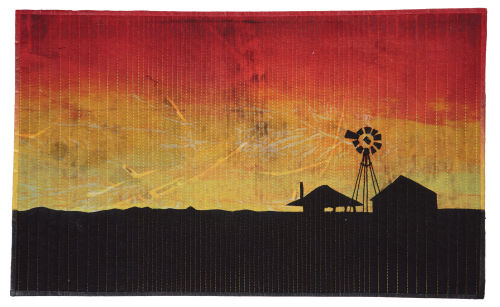 Outback: Sunset or Fire by Roberta Le Poidevin