People in Quilts
Published: Friday, 18th September 2020 12:02 PM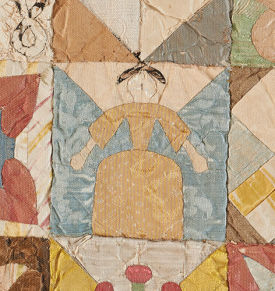 Theme: People in Quilts
Following on from the last blog post's theme, which explored the representations of Cities in quilts, this blog post looks at the variety of ways people have been represented in patchwork, quilting and applique. As time has progressed, the range of techniques available to the quilt-maker have developed, and it is interesting to see the way different makers have dealt with representing the human form in their work.
This first piece is our iconic 1718 Silk Patchwork Coverlet. We have explored this piece many times, but in reference to different elements of this fascinating piece. It is famed for its range of pictorial as well as geometric blocks, all of which have been constructed using paper templates. The man and woman block, which sit near the initials and date, are a skilful way to represent people within the constraints of the mosaic patchwork method. Interestingly, evidence from the papers, revealed through light transmitted photography analysis shows that the maker's initial drafting of the block made her head too small, sitting on top of a narrow neck. She then re-drew her design, making it more realistic for creating using this patchwork method.
This striking pictorial quilt is called 'Black Pearl' and was made by Laura Kemshall in 2009. The quilt is a self-portrait, and shows a woman with her head resting on her hand. She wears and holds many strings of pearls. The background to the rest of the quilt is circular patchwork, and it uses patchwork, fabric painting and dyeing, and machine quilting techniques. This quilt was the winner of The Festival of Quilts Quilters' Guild Challenge 2009, sponsored and purchased by Bernina.
Made as part of the Nineties Collection, Chaucer's Wedding by Linda Straw was made in 1992, and uses the artists' signature style of machine applique embellished with machine embroidery. Her inspiration for the design was the marriage of Geoffrey Chaucer to Phillipa de Roet in 1367. It was commissioned for the Nineties Collection by Region 10 (Derbyshire, Nottinghamshire, Lincolnshire and Leicestershire) of The Quilters' Guild.
This wonderful quilt by Margaret McCrory was made as part of the Forties Collection, commissioned to celebrate the 40th anniversary of The Quilters' Guild in 2019. It shows images of the 18 Presidents who have served and led The Quilters' Guild during the past 40 years. Straight line images were drawn from photographs or images of the presidents during the time they served.
Future Beaches was made in 2006 by Kathy Unwin. The quilt's design is divided diagonally along its length, with striped pieces on one side and stencilled people on the other side. This quilt won The Quilters' Guild Challenge at the Festival of Quilts 2006.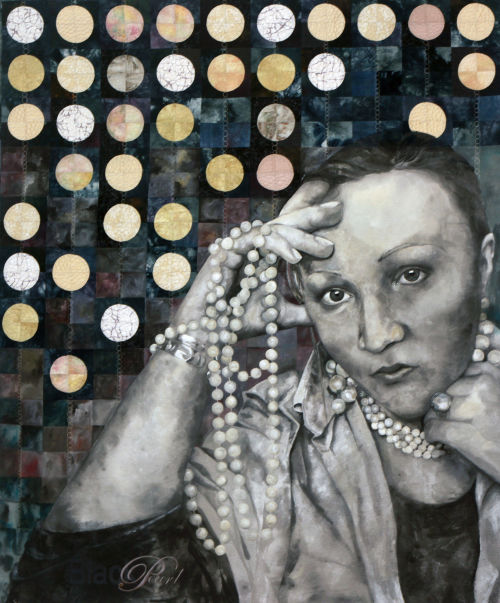 Black Pear by Laura Kemshall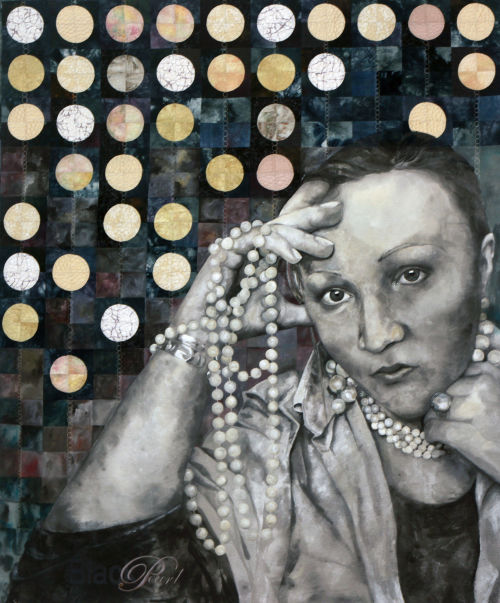 Black Pear by Laura Kemshall
Chaucer's Wedding by Linda Straw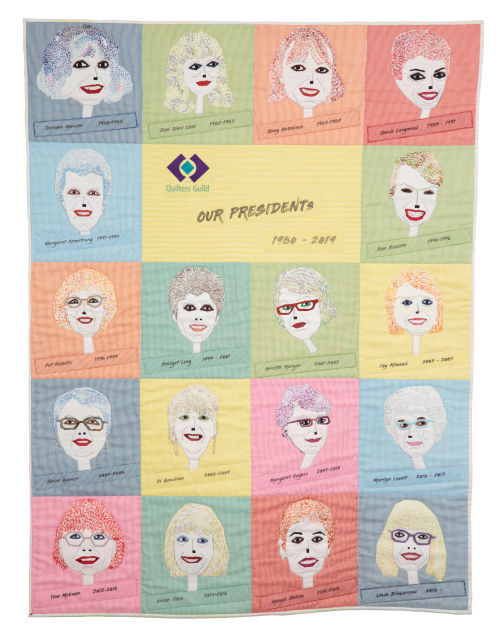 Presidents 1980-2019 by Margaret McCrory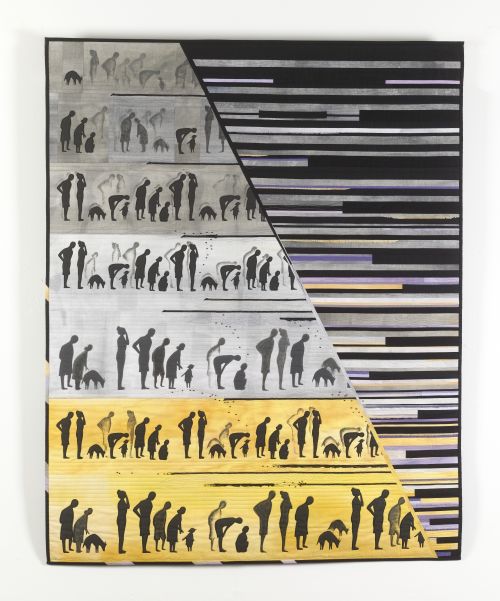 Future Beaches by Kathy Unwin