Happy Halloween!
Published: Saturday, 24th October 2020 08:00 AM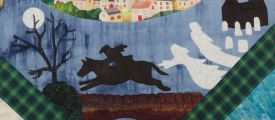 This blog looks at some spooky details in some of our quilts in the run up to Halloween - ghostly apparitions, spooky spider webs, scary skeletons, haunted houses and a mischievous looking devil!
We start the week with this ghostly detail from our Region 16 (Scotland) banner, which depicts a scene from Robert Burns' poem Tam O' Shanter, a narrative poem written in 1790 about a farmer who often goes drinking in his Scottish home town of Ayr. After one late night drinking session at the pub after market day, he rides home to his long-suffering wife, Kate, on his horse Meg, whilst a storm is brewing. On the way he sees the local haunted church lit up, with witches and warlocks dancing and the Devil playing the bagpipes. Tam shouts across to the dancing witches, causing the creatures to stop their revelry and chase after him. He flees towards the River Doon which the creatures dare not pass, and escapes - but only after a witch pulls off the horse's tail in their close pursuit.So a standard night out for most of us then?
Speaking of haunted buildings, this detail from Celebrating 40 by Chris Fost shows a rather ghostly looking St. Anthony's Hall, the medieval building in York which is home to The Quilters' Guild headquarters and the Quilt Museum and Gallery between 2008 and 2015. York is reputed to be the most haunted city in the world, with 504 recorded hauntings according to the Ghost Research Foundation. This beautiful hall has seen many uses over the centuries including a hospital, an ammunitions store, a place for feasting and plays, a house of correction, a Blue Coats school and home to the Borthwick Institute of Archives. With such a colourful history over so many years it's inevitable there is plenty if scope for ghostly sightings….but surprisingly no ghost stories exist for St. Anthony's Hall. Or not at least that we are currently aware of….
Despite the lack of stories from the supernatural world, there were probably plenty of horrifying conditions for many of the Hall's occupants in the living realm, from gruesome prison conditions to miserable school boys who led a less than happy school life.
These Roman ghosts, known as the Roman legionnaires of the Treasurers House in York are depicted on Linda Barlow's' York 800 - A Celebration, made in 2012 to celebrate 800 years of the city. This fascinating sighting was witnessed by Harry Martindale, an 18 year-old apprentice plumber who was repairing a pipe in the Cellar of The Treasurers House owned by the National Trust. Whilst working on top of his ladder, he heard a series of trumpet sounds, and looked down below to see a soldier wearing a plumed helmet emerge from a wall, followed by a cart hours and ten pairs of other Roman soldiers. Visible from only the knees up, they marched and then descended down to the level of the Roman road. Martindale described their uniform as green tunics with daggers on their right side and round shields carried on their left. His description matched the uniforms of the local reserve soldiers who took over the Roman garrison when the Roman soldiers began returning home in the 5th century. These uniform details were confirmed by excavations in the city several years after Martindale's sighting and description.
Also in this quilt you can see a rather mischievous looking devil. A statue of this devil can be seen on Stonegate in York, which was a street known for its bookshops and printers. The devil was symbolic of the apprentice workers whose job it was to handle the hot type. Normally this devil sits high up on a door corbel in chains, but on this quilt he has broken free and is enjoying a dance in the open air!
Halloween wouldn't be complete without a spider's web, and this lovely embroidered example features on what is actually a very non-spooky quilt. Kingfishers catch fire…was made by Rowena Reamon in 1998 for the Nineties Collection, and was inspired by the colours and themes in Claude Monet's paintings of his garden at Giverny. The small seed beads represent dew drops on the web and add some sparkle and magic to this little aspect of a very detailed and precisely sewn quilt.
This haunting, flying skeleton can be found on our theatrical quilt, All the World's a Stage, by Linda Straw, inspired by a speech used in Shakespeare's play As You Like it. The famous speech, spoken by Jacques, a melancholic noblemen, compares life to a play, and divides man's time on earth into seven ages - from new-born infant to old age. As you can guess, the skeleton is representative of the final stage of life, and floats over the old man, either representing him after his death, or representing death himself - ready to claim his next soul.
And on that cheery note we finish this Halloween special! Have a spooktacular weekend.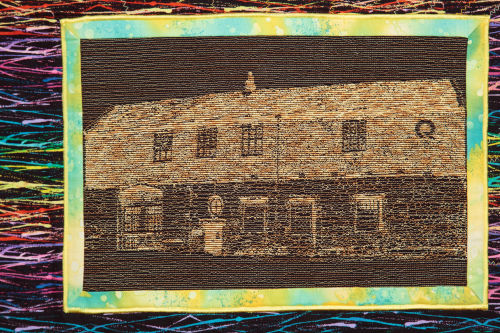 St. Anthony's Hall on Celebrating 40 by Chris Fost
Roman Legionnaire Ghosts of York, in York 800 - A Celebration by Linda Barlow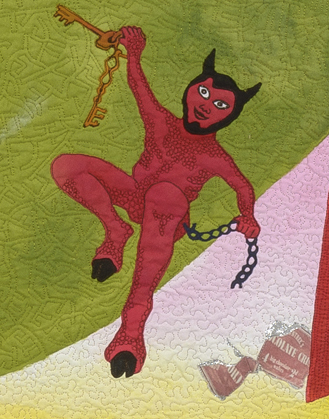 The Printer's Devil of Stonegate, York, in York 800 - A celebration by Linda Barlow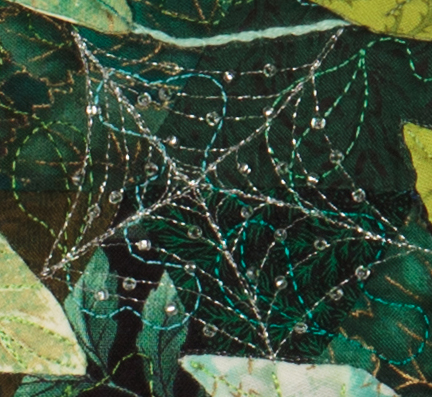 Spider's web in Kingfishers Catch Fire...by Rowena Reamonn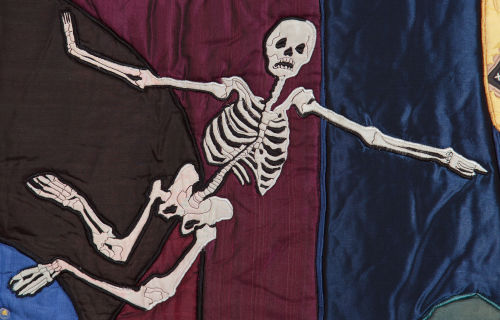 Flying Skeleton in All the World's a Stage by Linda Straw