Amy Emms - North Country Quilter
Published: Thursday, 6th January 2022 10:45 AM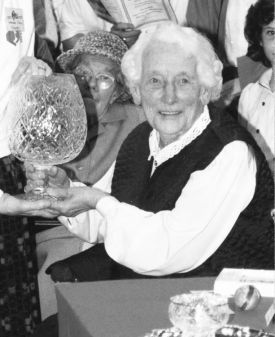 Amy Emms (1904-1998) was an important champion for the continuation of North Country wholecloth quilting traditions during the 20th century, especially during a time when the craft was not very fashionable. She learnt traditional North Country quilting from her mother, helping her thread needles by the age of seven and quilting by age 14. She began her prolific career teaching other members of the British Legion which she joined during the war. Her natural flair as a teacher and designer, as well as her exquisite craftsmanship led to a legendary reputation, and the quilting classes she taught were always in very high demand. She gained her City and Guilds Diploma in 1952 under the guidance of Mrs Lough and taught at the Sunderland Community centre, Weardale W.I. and gave demonstrations at quilt shows and museums across the country. In 1957, she completed her proudest achievement; her daughter's quilted wedding dress, making her a proud mother and a media sensation. Her renowned status and reputation led to many commissions and she was never without a project. Her love of quilting and teaching spread the once dying craft of North Country quilting to a wide and appreciative audience, and in 1983 she was awarded an MBE for her outstanding contribution to quilting.
We are fortunate to have several items in The Collection made by Amy, ranging from full bed size quilts to small domestic objects, and each one showcases her design and needlework skills. This lilac acetate satin wholecloth quilt was commissioned by the Heritage committee of The Quilters' Guild in 1993, as they were aware that the Collection did not feature a piece of her work at that time, and that it was important that she was represented. It is hand-quilted, contains polyester wadding, and has an interesting design feature - one of the corner designs is missing! The fabric was purchased from John Lewis, and Amy commented in one of her letters about the making of the quilt that the fabric was a little too thick to sew through easily, making it quilt a difficult piece to quilt.
This satin weave blue cotton and cream cotton wall hanging with polyester wadding was made as a gift for the first president of The Quilters' Guild, Deirdre Amsden, at the end of her term in office in 1982. It is hand-quilted with a central medallion of scissor motifs, one of her favourite designs, and a border of feather cable, and is hand finished with cream piping.
This cream sateen circular cushion was also made by Amy Emms, and features a feather wreath on one side and filled wine glass design with a border of chain and feather on the other, with square diamonds on the depth of the cushion. The edges have been piped and there is an Amy Emms label present on the side. It was made for Elaine Hammond, and Amy also gave Elaine a copy of her book, 'Amy Emms' Story of Durham Quilting' with a personal inscription " May 19th 1991 To Elaine, Happy Quilting with Best Wishes Lots of Love from a Good Friend to a Good Friend Amy Emms M.B.E". There is also an associated letter from Mrs Emms to Elaine Hammond and Dianne Huck, editors of
Also in The Collection is thishot water bottle cover and a green satin tea cosy with a ruched edge, both featuring North Country quilting designs and all executed to Amy's usual high standard of hand quilting.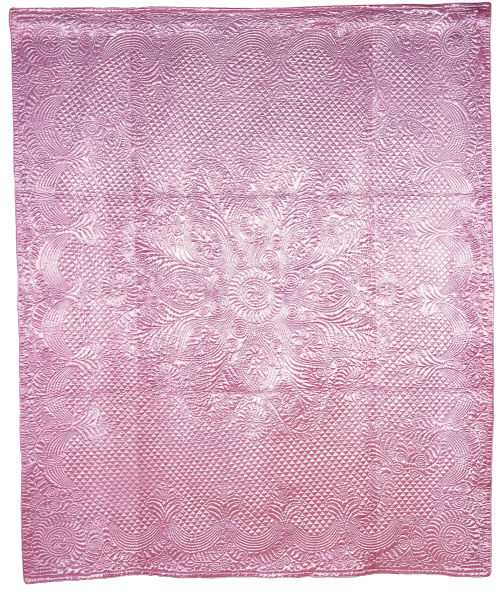 Pink Amy Emms Quilt, 1993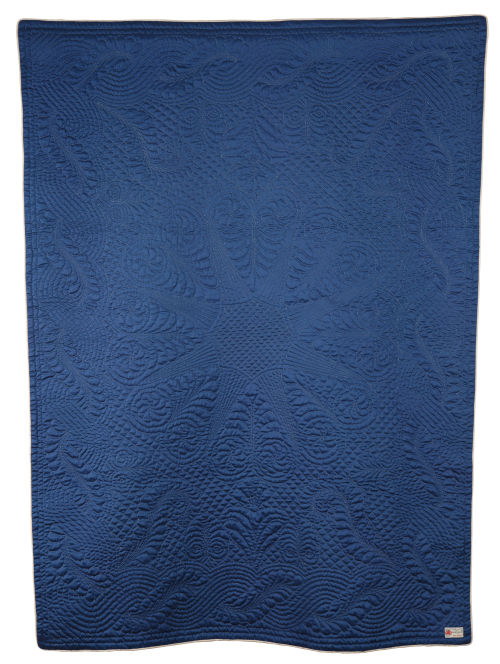 Amy Emms Wall Hanging, 1982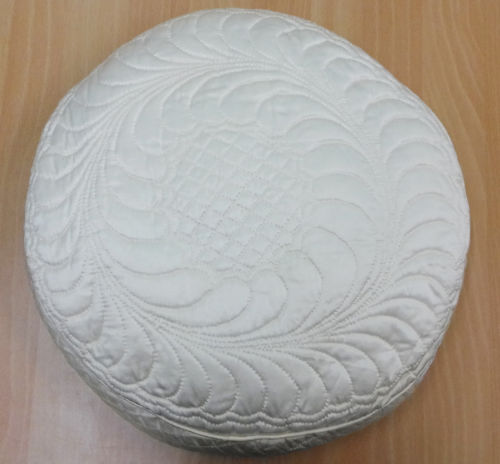 Amy Emms Cushion