What's New? A mini-exhibition of new acquisitions to The Quilters' Guild Collection
Published: Wednesday, 27th June 2018 10:59 AM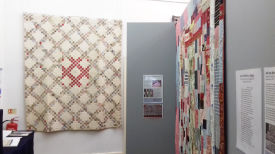 This exhibition showcased new acquisitions to The Quilters' Guild Collection. All items have been added in the last three years, and represents the diverse range of styles and ages of textiles that make up The Collection.
Currently, our collection totals around 850 objects, and aims to represent the wide breadth of patchwork, quilting and applique made in Britain. Our oldest objects date from the early eighteenth century, and our contemporary pieces to just a few years ago.
New acquisitions are guided by a Collections Development Policy, which states what we can collect and outlines specific area's we are missing to focus on. Items are discussed by a committee to ensure no personal interest dominates what is collected. We rely heavily on donations, with a small budget to try and purchase significant pieces to fill in collection gaps.
Like all museum and heritage collections we are restricted with what we can collect due to space and resources. Items that enter the collection are done so on the understanding that they will be kept forever for the benefit of future generations. We follow strict guidelines under the Arts Council Accreditation Scheme to ensure items are properly managed, and cared for to an agreed national standard.
Click on the links below to find out more about the items that featured in this exhibition:
Art Nouveau Fabrics Quilt
Berlin Wall Quilt
Betsy Cope Irish Chain Quilt
Muriel Rose Cot Quilt
Thirties Log Cabin Coverlet
Lilac Dress
Applique Cot Coverlet
All the World's a Stage
Child's Fabric Book
Corded Quilted Stomacher
Eiderdown Designs