Three Exciting New Acquisitions to The Quilters' Guild Museum Collection
Published: Wednesday, 22nd May 2019 14:53 PM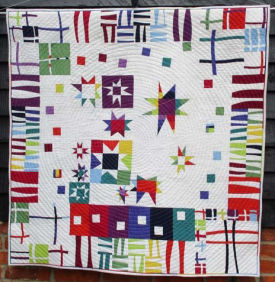 Three Ships from Hull: Captain Cook 250, made by Cathy Corbishley Michel, celebrates 250 years since Captain Cook set sail to explore distant oceans in 1768. Produced by cyanotype printing, Cathy has reproduced high-contrast images from engravings and books which relate to Cook's discoveries, including maps, mariner's tools and interesting native artefacts that were brought back from his travels. Cathy's making process is a long one. She spends one or two years doing research, gathering information and images and planning the piece before construction begins. Her work, using cyanotype printing in this way, is unique, and produces a visually stunning piece that is rich in design and history. You can find out more about her quilts and career here.
The other two pieces are the first in The Collection from the relatively new 'Modern' category of quilting. Reflections by Sarah Hibbert, was created with the intention of making the fabric prints the main attraction, and simple triangles set within squares help the viewer to focus on the beautiful and carefully chosen arrangement of Japanese prints and Essex linen fabrics. Simple quilting enhances the design without detracting attention away from the fabric prints. Sarah Hibbert is a Hertfordshire-based quilter who has been a member of The Quilters' Guild for 31 years. Her modern quilts are exceptional, and she had quilts accepted into the past three QuiltCon exhibitions in the U.S., with an unprecedented five quilts accepted in 2019.
Modern Jazz by Helen Howes(pictured above right) was created as a sampler mystery quilt for The Quilter in 2016 whilst also coordinating the Modern Quilt Specialist Group. The piece is a great example of the aesthetics of modern quilting, employing bold colours, improvised blocks and negative space, all enhanced by simple quilting that doesn't detract from the overall design. Helen enjoys piecing and loves to work with variations, stating "improvised blocks are like handwriting; mine are not like anyone else's, even when the root is the same".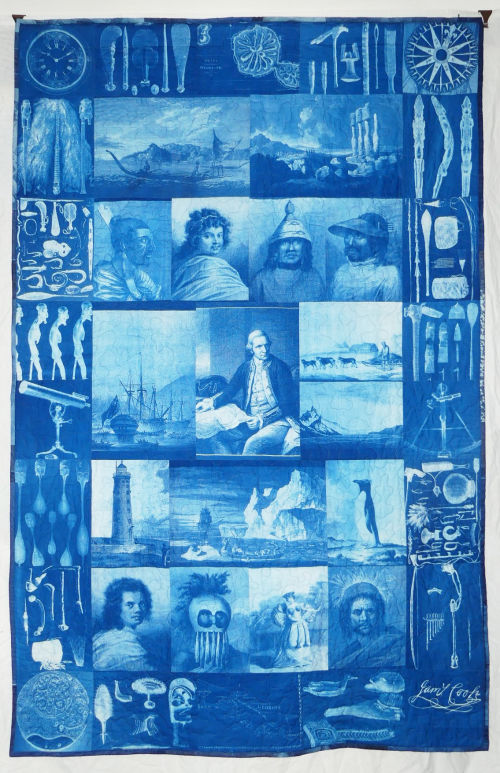 Three Ships From Hull: Captain Cook 250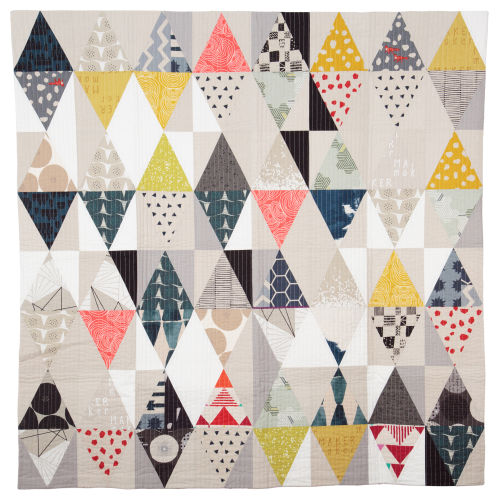 Reflections