A Diverse Patchwork Exhibition - Artist Gallery Talks
Published: Friday, 30th June 2023 09:29 AM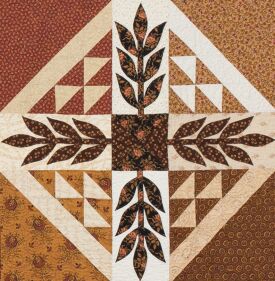 A Diverse Patchwork - Artist Gallery Talks
For those visiting The Festival of Quilts this August, we're thrilled to offer a series of short gallery talks on our Collections stand this year. The Exhibition, A Diverse Patchwork, celebrates the diversity of our patchwork and quilting community. It recognises the contribution of all makers and artists in creating textile works, continuing the practise and evolution of the crafts and inspiring others to explore and embark on their own textile journeys.
The exhibition will showcase both historic and contemporary pieces from The Quilt Collection, and we're fortunate to have some of the contemporary artists, whose work is represented in the gallery, generously give up their time in a pre-planned programme of ten-minute talks. This will be a great opportunity for visitors to hear the artists talk about their piece and their practice, and they'll be on hand to answer any questions you might have.
Lynne Edwards, MBE, is an experienced and much-loved quilter, teacher and author - if anyone can inspire you to quilt, Lynne can! Her humour, verve and story-telling prowess are second to none, and she's recently produced a series of 'Essential Skills' tutorials in collaboration with The Quilters' Guild, aimed at teaching viewers some of the key skills needed for quilt making. Her work on display, a large Cathedral Windows piece made in 1998, showcases her incredible skill and one of her signature patchwork styles.
Chris English is a Huddersfield based quilter, who delights in using recycled, repurposed and rescued fabrics - giving them a new lease of life rather than seeing them sent to landfill. Known for his colourful and contrasting quilts, he enjoys mixing different techniques??"contrasting improv patchwork with structured designs. His quilt, #Nevertrustatory, is a new addition to The Quilt Collection, and was made during the 'Partygate' episode of the Covid-19 Pandemic.
Russell Barratt is a self-taught textile artist with a background in fashion and costume design. He often uses second-hand fabrics and repurposed used clothes to make quilted artworks that are often inspired by memories of childhood and domestic life. His eighties inspired piece, Lucky! Lucky! Lucky!, was made in 2020, and recreates a specific personal memory - the joy of seeing Kylie in concert, aged 11, during a visit to his grandmother's house in 1990.
Stuart Hillard is a quilter, fabric and pattern designer, TV presenter, author and one of the original contestants on the first series of the Great British Sewing Bee ??" as well as being The Quilters' Guild most recently appointed Patron! Stuarts friendly and approachable nature make him a natural-born teacher and his enthusiasm for championing the crafts is equally matched by his sewing prowess. Birds in the Cornfield, featured on the front cover of Popular Patchwork magazine in 2012 and was generously donated in 2022.
Colin Brandi a textile artist who finds great inspiration in the abstract art of the first half of the twentieth-century, and finds texture an integral part of his most recent practice. He treats the process of quilt making as an evolutionary one, allowing the works to develop and relinquishing control to become a three-dimensional object with a life story of its own. His work on display in the exhibition, Two-3, was created as part of a series which draws upon the tradition of quilt making and references both the recycling and reuse of fabric together with 'block' construction.
Heather Audin is the curator of The Quilt Collection and has worked for The Quilter's Guild for 15 years, looking after the Collection and creating exhibitions. She'll be on hand to answer any questions about the other items in the exhibition, and will also feature a few of the historic quilts and their makers in her gallery talks.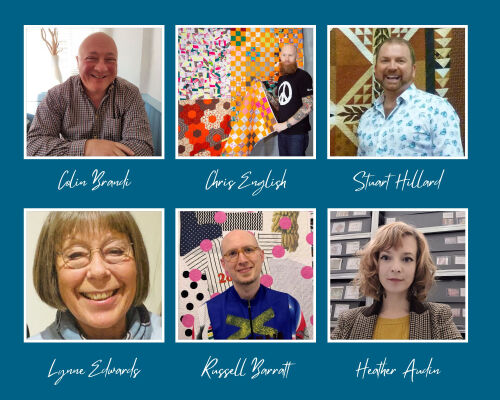 Gallery Speakers