Travelling Trunks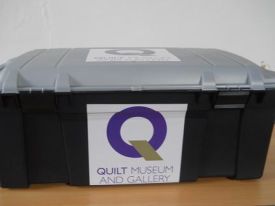 Do you need textile inspiration? Want to find out more about the history of patchwork and quilting?
Why not borrow one of our fantastic Travelling Trunks 'Textile Treasures' and Textile Techniques'.
Textile Treasures is suitable for use with KS1/2 students and groups of young people.
Textile Techniques is suitable for KS3/4 students and adult learners.
Both Trunks contain handling samples of quilts and quilted objects that show different quilting techniques and styles.
To find out more, download the Loans box sheets.
If you are interested in booking a Travelling Trunk please telephone 01904 613242 to request booking information.
Please note, Travelling Trunks will have to be collected and returned to the Quilters' Guild by the school or group.
Documents: