About St Anthony's Hall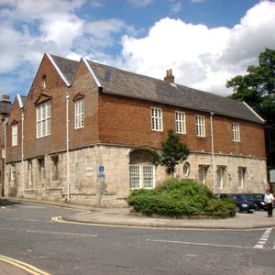 The Quilters' Guild Collection is based in St Anthony's Hall, a medieval guildhall in the centre of York. A Grade 1 listed building, the hall is of significant architectural and historical interest. St Anthony's Hall is one of only four remaining medieval guild halls in York. In 1446 King Henry VI granted a charter that founded the charitable Guild of St Martin. The hall and a chapel were subsequently built on the site, which previously housed a chapel for St Anthony - the name was retained for the hall. In its long and colourful history, it has been a guildhall, a workhouse, a munitions magazine, a prison, a Blue Coat School and home of the Borthwick Institute (a historical archive).
The building is owned by York Conservation Trust who have drawn on their many years' experience of restoring historic buildings to undertake extensive works to bring St Anthony's Hall up to a high standard suitable for commercial use. The Trust works to preserve and conserve buildings with historical and architectural importance for the people of York.
Archaeological surveys of the building by the York Archaeological Trust have revealed evidence of earlier use of the site as far back as the Viking period.
As well as the impressive 81' x 27' timbered Great Hall, St Anthony's Hall has the remains of the original chapel and many other architectural features of note. It also benefits from being located just inside the city walls, near the Foss Bank car park, right next to sightseeing and park and ride bus stops, and within a few minutes walk of the main tourist areas including the Shambles and York Minster.