Group Bookings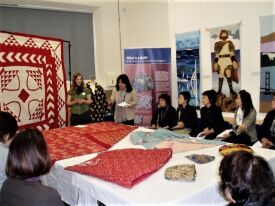 Groups are welcome to book a Behind the scenes group visit, which take the form of a handling session with historic quilts from our heritage collection, and can include a variety of items from the collection or specifically requested items along a similar theme.
This is a rare chance to glimpse the treasures of the collection which are not on display to the public, and also the chance to see how and where we store our collections.
Behind the scenes visits are available by appointment only. Minimum group size 8 people, maximum group size 15 people. Larger groups can be divided into smaller groups and multiple sessions.
Behind the Scenes Session Fees
£15 per person
£12.50 Quilters' Guild member