Research Visits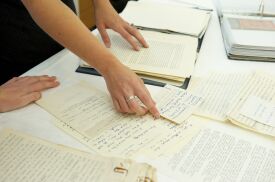 We welcome researchers and are happy to provide access to the collection for your studies. Our Collection covers a wide range of object styles, fabrics and dates of production, and we can accommodate individual research requests or those of a class or group.
Simply get in touch with the curator (curator@quiltersguild.org.uk) who will be happy to liaise with you and organise a study visit. Details of how to find us are on the Finding Us section of the website, and use the Collections tab to view our online Collections.
There is no charge for research visits. We look forward to hearing from you.